United coaching position on the table for Carrick
Mourinho offers midfielder role in wake of heart problem revelation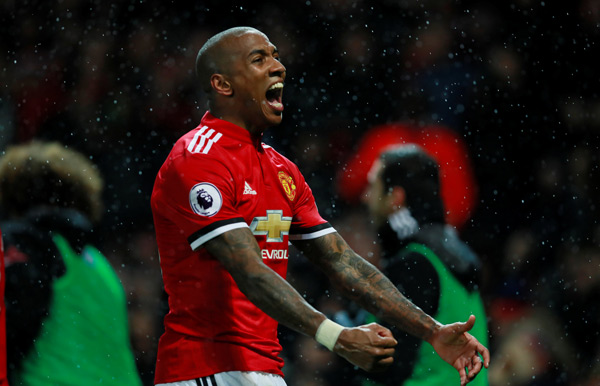 Ashley Young celebrates scoring the winner in Manchester United's 1-0 Premier League victory over Brighton at Old Trafford on Saturday. [Photo/Agencies]
MANCHESTER, England - Jose Mourinho has offered club captain Michael Carrick a coaching role with Manchester United after the former England international announced he had received treatment for an irregular heart rhythm.
Carrick issued a statement on the eve of United's 1-0 win over Brighton on Saturday that revealed he had undergone a procedure to correct the problem.
The midfielder suffered dizzy spells during a League Cup win over Burton in September and has only recently been cleared to resume training with Mourinho's first team.
But the United manager confirmed that a coaching job is available for Carrick should the 36-year-old decide to retire at the end of his contract in June.
"Michael as a person is more important than Michael as a player," said Mourinho. "We gave him the time to relax, to recover, to feel confident, to make the decision - wants to play, wants to stop.
"He knows that my coaching staff has a chair for him, if he wants, when he wants. The chair is in the office for him. I want that, the board want that, the owners want that.
"Michael is in a comfortable position - the future is with us. But he wants to play until the end of the season and now he feels confident to be back. He is one more option for us."
Jose frustration
Mourinho was left frustrated by United's lackluster display on Saturday which required a 66th-minute Ashley Young shot, which took a cruel deflection off Brighton defender Lewis Dunk, to earn United the three points.
In the week that club legend Eric Cantona suggested Mourinho is not attack-minded enough for United, the Portuguese coach admitted he may have overdone his offensive approach by fielding Juan Mata, Marcus Rashford and Anthony Martial behind striker Romelu Lukaku.
"I wouldn't be surprised if some of the pundits said today we played with too many attackers," said Mourinho. "But if they say that I would say they were right because sometimes you play with too many attacking players and you lose control of the game.
"We had a few problems defensively with the game because (Paul) Pogba and (Nemanja) Matic were a bit isolated in the center of the park.
"If we compensate that with more creation that is good, that is a good risk but today our creation was poor."
United's lack of goals has become a problem in recent weeks, as witnessed by its 1-0 midweek Champions League loss in Basel, where Mourinho's side dominated the first half.
"We played some of our best football away from home in the first half (at Basel) - it could have been 6-0 and it was 0-0," said Mourinho.
Brighton performed admirably at Old Trafford, and was unfortunate to concede the corner that led to the goal.
Replays suggested referee Neil Swarbrick and his officials should have awarded a goal-kick, and Seagulls boss Chris Hughton said: "When you see it again, it wasn't a corner.
"But we did have an opportunity to clear it after that.
"It was an unfortunate goal for us to give away. From where I was, it didn't look a corner but I assumed because the official was that close, he got it right. I expect him to get it right in those circumstances."
Agence France-presse