World champion Ma Long embraces challenges at ITTF Men's World Cup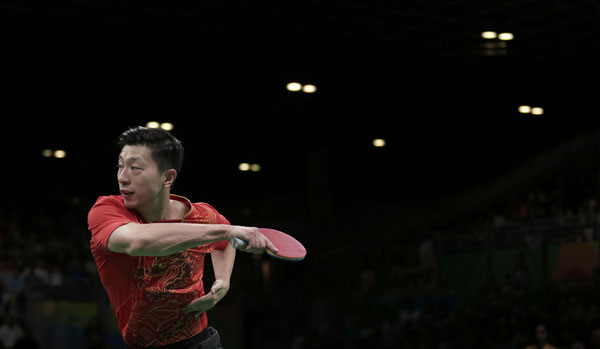 Ma Long plays against Koki Niwa of Japan during the 2016 Rio Olympics in Rio de Janeiro, Brazil, Aug 17, 2016. [Photo/Agencies]
LIEGE, Belgium - Chinese paddler Ma Long, reigning world champion and Olympic gold medallist, was ready to face challenges with his best self at the ITTF Men's World Cup to be held here from Friday until Sunday.
Ma, captain of Chinese men's team, targeted at his third World Cup title after 2012 and 2015 in the eastern Belgian city, where he debuted in the tournament nine years ago.
"I hope to perform well back here," he said at Thursday's press conference.
Ma automatically secured one spot at the World Cup as current world champion back in June in Dusseldorf. Following his victory at the National Games early in Sept, Ma adjusted himself to the World Cup through training and injury recovery.
"I want to embrace challenges here with my best self, both athletically and physically," he commented, adding that he just focused on playing to his best in every match.
Another Chinese paddler to feature in Liege was the 22-year-old Lin Gaoyuan, the Asian Cup winner. He also won last month's ITTF Austrian Open.
Lin grabbed much attention back in March as he secured a ticket to the World Championships through Chinese team's qualification.
"I have benefitted a lot from my experience in international tournaments, and seen much improvement in my ability.
"I need to be better prepared for the World Cup here," said Lin.
This was the third time that Liege has hosted the World Cup after 2005 and 2008.
The 38th edition of the World Cup consists of two stages. Top eight seeded players automatically position themselves in the knockout stage, while players seeded 9th to 20th are drawn into four groups of three players, among whom top two finishers of each group will advance to the next stage.
Both Ma and Lin are among top eight seeds, thus enjoying a bye in Friday's group stage. Following Saturday's round of 16 and quarterfinals, the 2017 World Cup will witness its winner through Sunday's semifinals and final.