So far, so good in Valverde's brave Nou era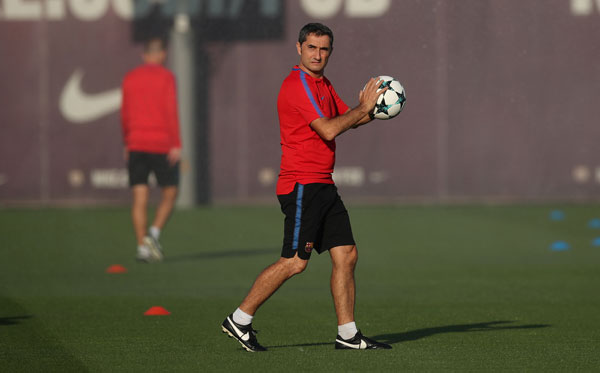 Barcelona coach Ernesto Valverde during training at Ciutat Esportiva Joan Gamper in Barcelona, Spain, Oct 17, 2017. [Photo/Agencies]
BARCELONA - Barcelona coach Ernesto Valverde celebrated his first 100 days in charge and Lionel Messi scored his 100th European goal as the Catalan giant brushed aside Greek side Olympiakos 3-1 on Wednesday.
Valverde has steered Barca to 10 wins and a draw in his first 11 La Liga and Champions League matches at the helm.
However, the serene progress on the pitch has been tempered by a number of distractions off it.
Valverde's men have coped admirably with the departure of Neymar to Paris Saint-Germain, which provoked calls for club president Josep Maria Bartomeu to resign, and the tense political situation sweeping Catalonia.
In its first appearance at Camp Nou since beating Las Palmas behind closed doors as a violence-marred referendum on Catalan independence took place on Oct 1, Barca played in a largely empty stadium due to torrential rain in the hours before kickoff.
And there were still calls for Bartomeu's head, chants in favor of independence and a banner reading "Freedom for Catalonia".
"We concentrate on football so that the fans can enjoy themselves," said a characteristically calm Valverde.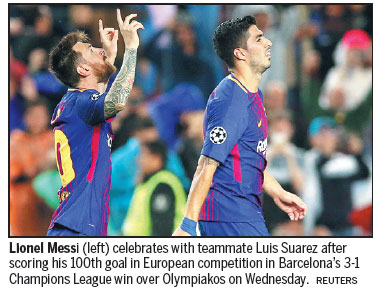 "In the stadium people come to express themselves, but the most fundamental thing is that they come to see their team win and that is what we are here for - to try to win.
"As the Barca coach I represent loads of people with many different personal opinions. The only thing that interests me is that my fans are happy and that the flag we defend is that of Barcelona."
A third straight win in Champions League Group D firmly maintains Barca's place at the top of the standings, three points clear of Juventus, which beat Sporting Lisbon 2-1 in Turin on Wednesday.
Barca also enjoys a four-point lead over second-place Valencia at the top of La Liga. Better still, bitter rival and reigning champion Real Madrid is a further point back in third.
"He has made Camp Nou and the members fall in love with him," Bartomeu said of Valverde's start. "They are 100 very optimistic days and we have to be ambitious."
Barca did as much damage to itself as meek Olympiakos. After Dimitrios Nikolaou's early own goal - Gerard Pique was sent off for slapping the ball into the net to pick up a second yellow card just before halftime.
Yet the host's numerical disadvantage mattered little with Messi on its side as the Argentine's freekick took his Champions League tally to 97, allied to three goals in UEFA Super Cup finals.
Messi was also involved in Barca's third goal as his low cutback was driven home by Lucas Digne before Nikolaou atoned for his earlier error with a late consolation.
"The results are favoring us, but what matters is to be calm when things go well and badly," added Valverde.
"We know Barca is an enormous club and moves in extremes. Our intention is to maintain that calm."
Agence France-Presse
Most Popular
Highlights
What's Hot