Former national team player Shao Jiayi selected into 'Bundesliga Legends Network'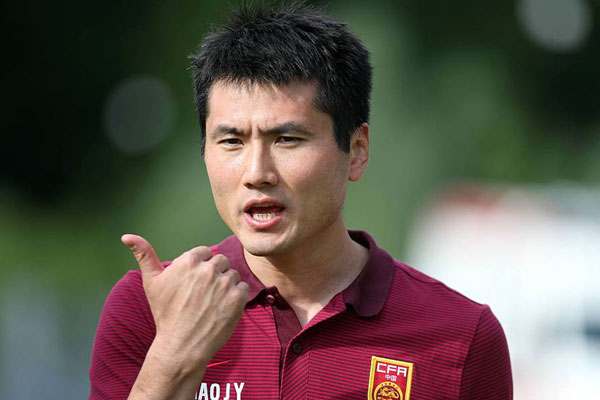 Shao Jiayi during a match against SG Sonnenhof Grobaspach in Germany on June 27, 2017. [Photo/VCG]
Former Chinese soccer player Shao Jiayi has been formally selected as one of "Bundesliga Legends Network", Deutsche Fußball Liga, German professional football association, announced on Monday.
As a member of the "Bundesliga Legends Network", Shao will help spread the values and unique features of the Bundesliga all over the world as a brand ambassador.
Shao Jiayi, born in 1980, is the most successful Chinese player in Bundesliga history. He made a combined 168 appearances in the Bundesliga and the second Bundesliga, scoring 24 goals in his stay in German leagues from 2002-2011.
Shao retired from his home team Beijing Guo'an in 2015 and now serves as the club's sporting director.
"I am very proud of playing in Bundesliga, and it's my pleasure to do something for the Bundesliga now," Shao said in a news release.
The "Bundesliga Legends Network" consists of nine successful former players who enjoy legendary status in their homeland and are highly regarded. Apart from Shao, the other eight legendary soccer stars are Jörg Albertz (Germany, China market), Lothar Matthäus (Germany), Steven Cherundolo (the United States), Pavel Pardo (Mexico), Anthony Baffoe (Ghana), Wynton Rufer (New Zealand), Bum-Kun Cha (South Korea) and Paulo Sergio (Brazil).
As brand ambassadors of the Bundesliga, these ex-players will make several appearances, for instance at fan and media events, as coaches at soccer camps, at corporation social responsibility events or as experts in various shows to boost the popularity of the Bundesliga globally.
Former Shanghai Shenhua foreign aid Jörg Albertz was another brand ambassador chosen for the huge China market. He was named as China's Player of the Year in 2003 during two-year stint with Shanghai Shenhua from 2003-2004. He played 249 times in the Bundesliga and the second Bundesliga, scoring 42 goals.
Most Popular
Highlights
What's Hot