China's Xu finishes fifth in 200m back at worlds, Sun Yang quits 1,500m free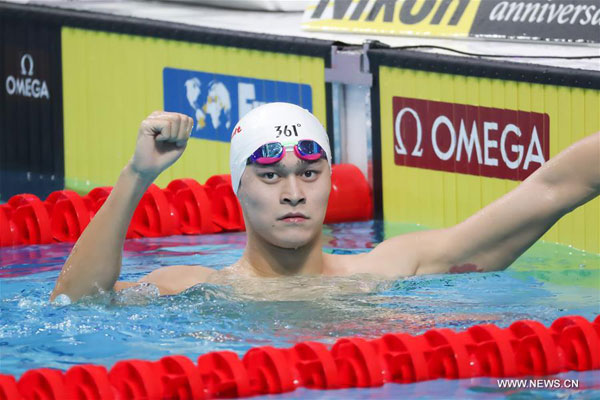 China's Sun Yang celebrates after the men's 200m freestyle semifinal of swimming at the 17th FINA World Championships in Budapest, Hungary on July 24, 2017. [Photo/Xinhua]
BUDAPEST - Newly crowned world champion Xu Jiayu failed to add another title as he finished only fifth in the men's 200m backstroke at the 17th FINA World Championships here on Friday.
Meanwhile, Chinese swimming ace Sun Yang will not race in the men's 1500m freestyle final, confirmed the Chinese team.
Sun has competed seven races in a four-day span in 200m, 400m and 800m freestyle events, and he won gold medals in 400m and 200m free.
"Sun competed in several events with high intensity here during the past days," the team said in a statement. "For the sake of his health and preparations for the Tokyo Olympic Games, Sun has decided to withdraw from the 1500m contest here."
Xu claimed the first ever worlds title in men's backstroke for China with his 100m triumph in the Hungarian capital. He also finished atop the 200m semifinals on Thursday.
Xu recorded a reaction time of 0.57 second, sharing the shortest time with Olympic champion Ryan Murphy of the United States. However, it was Russian swimmer Evgeny Rylov in the third lane who built a leading position from the very beginning.
The Olympic bronze medalist maintained his lead en route to his first world title in 1:53.61, a new European record.
"I'm really happy that I have won my first ever gold. My ultimate goal is the world record," said Rylov. "The first half was successful, but the second half was always a problem."
Xu finished fifth at 1:55.26. He will next compete in 50m backstroke.
"The slow first half was always a problem for me. After my triumph in 100m event, I received more expectation," Xu said with tears.
Shi Jinglin, Olympic bronze medalist in Rio, once again ranked third in 2:21.93, improving her personal best by fifteen hundredths of a second.
"I felt happy about renewing my personal best. Although it was just a bit over 0.1 second, but after all, it showed that I was still improving," commented Shi.
Yuliya Efimova of Russia took away the bronze medal, while the silver went to Bethany Galat of the United States.
Simone Manuel of the United States made a strong sprint in women's 100m freestyle to beat world record holder Sarah Sjostrom by four hundredths of a second.
Moments later, Sjostrom led the 50m butterfly semifinals with 25.30 seconds. China's Lu Ying crashed out with her 11th position.
Li Zhuhao secured a final berth in men's 100m butterfly by finishing seventh in the semifinals, while Liu Yaxin failed to make into the final with her 12th place in women's 200m backstroke.
Anton Chupkov clinched Russia's third gold of the night in men's 200m breaststroke, also beating the event record with 2:06.96. The British team clocked 7 minutes and 1.70 seconds to win men's 4x200m freestyle relay, the last event of the night.
The United States won women's polo title after beating Spain 13-6 in the final. Russia defeated Canada 11-9 in the bronze medal playoff.
Anna Bader of Germany provisionally led women's 20m high diving with 67.60 points after Friday's preliminary.