Federer: 1 of Big 4 left at Wimbledon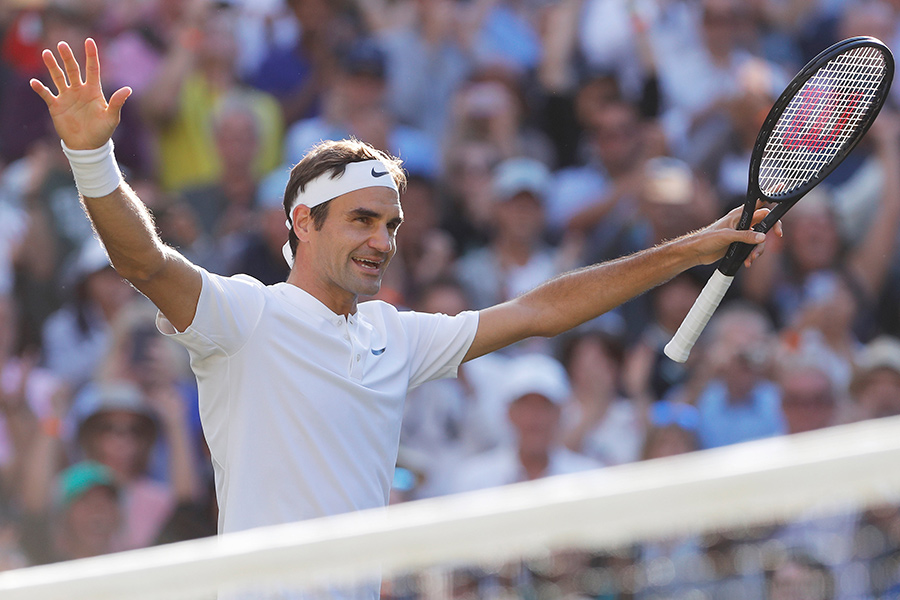 Switzerland's Roger Federer celebrates winning the quarterfinal match against Canada's Milos Raonic at Wimbledon, London on July 12. [Photo/Agencies]
Roger Federer is in the Wimbledon semifinals for the 12th time.
The seven-time champion at the All-England Club beat Milos Raonic 6-4, 6-2, 7-6 (4) on Center Court.
Federer will next face Tomas Berdych on Friday in the semifinals. Berdych advanced when Novak Djokovic retired from their match with an injury.
Raonic beat Federer in the semifinals last year, and then lost to Andy Murray in the final.
"When you see that they're there for you, it's a bit of an unusual feeling. I'm very touched, actually, to have so much support," Federer said. "I never would have imagined when I was younger that I would have experienced this."Less than a month from his 36th birthday, Federer is still giving 'em what they want. When Wimbledon began, Federer and the rest of the Big 4 — Novak Djokovic, Andy Murray and Rafael Nadal — had accounted for each of the past 14 men's singles championships. Now, as the tournament heads to the semifinals on Friday, only Federer remains.
Call him the Big 1.
"It's nice to see different guys, maybe, but I'm happy that my dream run continues," Federer said, "and we'll now see what happens next."Federer's path through the draw has been impressive, to say the least.
He has won every set he's played this fortnight, the only semifinalist who can make that claim.
He has won 63 of 66 service games. He has faced only 14 break points. He has made only 49 unforced errors, fewer than 10 per match.
So the first question put to 2016 runner-up Milos Raonic after his 6-4, 6-2, 7-6 (4) loss to the seven-time Wimbledon champion in the quarterfinals Wednesday was: What does a guy have to do to beat Federer?"You know, you have to do a lot. It's a stiff task," said Raonic, who defeated Federer in the semifinals last year before losing to Murray in the final. "I guess you can know what you have to do. It's a lot harder to do it than just to know it."He's hardly the first to realize that, of course.