Snooker head: No plans for more tournaments in China
There are no plans to hold more major snooker tournaments in China despite the huge popularity of the game here, the head of world snooker's governing body announced during a press conference in Wuxi, Jiangsu province on July 2.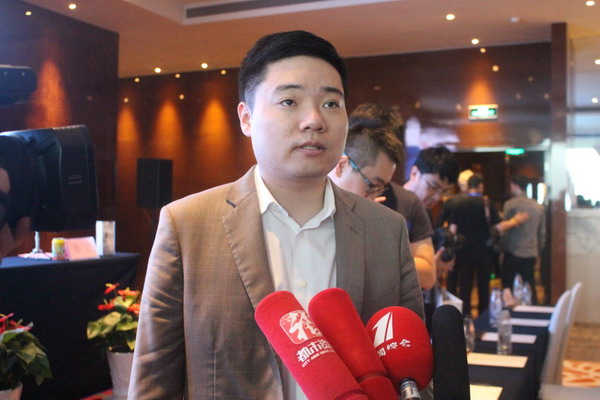 China's top snooker player Ding Junhui answers reporters' questions at a press conference in Wuxi, Jiangsu province, on July 2. Ding, the world number four, was born in Wuxi and is a former World Cup champion. [Photo by Pan Qi/chinadaily.com.cn]
Interest in snooker has skyrocketed in China in recent years, with 210 million Chinese viewers tuning in to watch TV coverage of the 2016 World Championship, according to World Snooker, the event's organizers.
But Chinese snooker fans will not have more opportunities to watch their heroes live for the foreseeable future, according to Jason Ferguson, chairman of the World Professional Billiards and Snooker Association (WPBSA).
"We share this belief with the China Billiards and Snooker Association (CBSA) that between four and six major events in China per season is about the right amount," said Ferguson.
China is scheduled to host four of the 19 ranking events during the 2017-2018 season, plus a couple of high-profile invitation-only events such as the World Cup, which begins in Wuxi on Monday.
However, this number still appears low considering the vast number of snooker fans in China, which dwarfs even the sport's traditional heartland in the UK.
An estimated 45 million Chinese watched the afternoon sessions of Ding Junhui's World Championship final against Mark Selby last year, more than ten times the peak audience for the BBC's live coverage.
Ferguson pointed to the large increase in the number of Chinese ranking events between 2008 and 2013, when China's allocation increased from two to five, as evidence of world snooker's pivot to the Far East.
But he also hinted that the WPBSA's attention has now shifted elsewhere as the organization tries to grow the sport around the world.
"We have to consider other countries around the world. We're delighted to see here so many new players—new players from Europe," said Ferguson.
Continental Europe will host three of snooker's 19 ranking events this season, four if you include the competition in the British colony of Gibraltar.
There are also doubts about the future of another Chinese event, the World Cup, which has been held in Wuxi since 2015.
With the 2017 edition of the tournament set to cue off on Monday, Wuxi is still yet to extend its deal to continue hosting the event.
"We have been negotiating with … [China's] General Administration of Sport and the WPBSA to continue holding the snooker event in Wuxi. We will continue talking about this issue during the 2017 World Cup … and we'll get a definite answer soon," said Yang Yuhua, deputy director of the Wuxi sports bureau.
The World Cup is an invitation-only event but has proved popular with players, sponsors and broadcasters.
Six of the top seven players in the snooker world rankings will compete in Wuxi on July 3-9, with new sponsors Little Swan helping to boost the total prize money on offer to $800,000.
Millions are expected to watch the tournament on TV, with broadcasters including China's national network CCTV and Eurosport set to show live coverage of the action.
This year's World Cup will feature 24 teams representing 23 different countries, a sign of snooker's increasing global reach.
When the sport's first World Cup was held in 1979, just six teams were involved.
China has high hopes of winning the tournament for the third consecutive time.
As hosts, it is the only nation to enter two teams. An "A" team featuring world number four Ding Junhui and 12th-ranked Liang Wenbo will play alongside the defending champions Zhou Yuelong and Yan Bingtao.