Old foes in fine fettle to deliver fans' final fantasy
Federer and Nadal look on course for repeat of classic Wimbledon decider
LONDON - Roger Federer and Rafael Nadal have shared the Grand Slam spoils this year and it would take a hard heart not to hope for a fairytale rematch next month of their epic 2008 Wimbledon final.
Federer, 35, prevailed in their five-set battle to win his record-extending 18th Slam at the Australian Open in January, but then sat out the claycourt season in which Nadal, 31, made his own history by winning his 10th French Open title and 15th major.
In 2008, Nadal was just 22. He survived two rain breaks and an enthralling Federer comeback to end the Swiss star's five-year reign as Wimbledon champion to finally triumph 6-4, 6-4, 6-7, 6-7, 9-7 after losses in the 2006 and 2007 finals.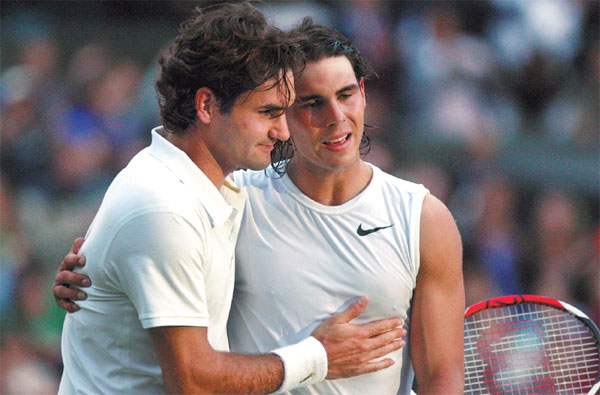 Roger Federer (left) and Rafa Nadal embrace after the latter's victory in the 2008 Wimbledon final, considered one of the sport's greatest-ever matches. Reuters File
The match, at four hours and 48 minutes, is still the longest final in Wimbledon history. It was hailed by pundits, players and fans alike, with the legendary John McEnroe describing it as the greatest match he'd ever seen.
The Wimbledon seedings, to be confirmed on Wednesday, and Friday's draw will determine whether the titans could meet on Center Court in the final of the tournament, which runs from July 3-16, for the first time since that tussle.
But for those who believe in omens, Nadal, then all pirate swagger with his long shorts, long hair and sleeveless shirts, won the 2008 Wimbledon title after annexing the French Open without dropping a set - a feat he repeated earlier in June.
"He'll go to Wimbledon with so much confidence. For me, he's the favorite with Federer, but Federer won't have the confidence of coming in as French Open champion," said Mats Wilander, three-time French Open champion and Eurosport TV host.
Nadal, the world No 2, pulled out of warm-up tournament the Aegon Championships, at London's Queen's Club, to rest up in his native Mallorca ahead of his bid for a third Wimbledon title.
'Very motivated'
The 31-year-old missed Wimbledon last year with a wrist injury. Since losing to Novak Djokovic in the 2011 final, each of his four subsequent visits to the All England Club in London have ended in defeat to a player ranked 100 or lower.
Yet Nadal gave notice of his intent by winning in Paris.
"I'm motivated. Grass is not my speciality, but I'm very motivated," he told reporters.
For his part, Federer, whose 2016 season came to an abrupt end after he lost in the Wimbledon semifinals to big-serving runner-up Milos Raonic, made a sensational start to the year.
Federer prevailed in the 35th chapter of his rivalry with Nadal in January to clinch the Australian Open - his first Grand Slam title since Wimbledon in 2012 - before again trumping the Spaniard en route to claiming the Indian Wells and Miami titles.
That run defied logic as Federer had spent the last six months of 2016 on the sidelines recuperating from a knee injury that required surgery earlier in the season.
He then gave the unforgiving Roland Garros courts a miss to focus on Wimbledon and the hardcourt swing.
While the grasscourt comeback for the seven-time Wimbledon champion faltered in the first round at Stuttgart, losing to German veteran Tommy Haas, Federer was brilliant on Sunday as he won a record ninth Halle title without dropping a set all week.
"I was doubting myself a little bit, I must admit, because losing (in the opening) round for the first time in 15 years on grass was always going to shake me a bit and it did," Federer told the ATP men's tour website.
"So I'm happy to react right away and let that be forgotten and actually move on and remind myself I actually can play well on grass."
Boding well for Federer as he heads to London, is the statistic that when he has been victorious in his first four finals in a season - 2004, 2005 and 2012 - he also went on to win Wimbledon.
Can the player many are now calling the greatest in tennis history do the same in 2017?
Reuters
Most Popular
Highlights
What's Hot