Cavs target George to challenge Warriors dominance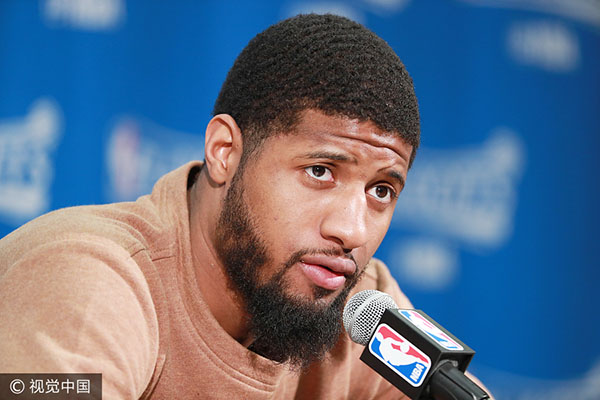 Paul George #13 of the Indiana Pacers speaks during the post-game press conference after the game against the Cleveland Cavaliers during Game Four of the Eastern Conference Quarterfinals of the 2017 NBA Playoffs on April 23, 2017 at Bankers Life Fieldhouse in Indianapolis, Indiana. [Photo/Agencies]
Fresh off their NBA Finals loss to the Golden State Warriors, the Cleveland Cavaliers are reportedly trying to bring Paul George over from the Indiana Pacers to add firepower and defense to the Eastern Conference champs.
George, a 27-year-old four-time All-Star, is a highly sought after target in the NBA this offseason and combining him with LeBron James and Kyrie Irving could produce a viable challenger to the dominant Warriors next season.
ESPN reported Monday on a possible three-way deal that would see the Cavs send forward Kevin Love to the Denver Nuggets, the Nuggets send several young players to the Pacers, and George forming a new Big Three in Cleveland with James and Irving.
"This blockbuster trade from the Cavaliers standpoint is all determined by what the Golden State Warriors did in the NBA Finals," ESPN pundit Chris Haynes said on Monday.
Earlier this month the Warriors defeated the Cavaliers in five games to claim their second championship over Cleveland in three years.
"The roster as structured right now, (the Cavs) don't feel like they have the talent and depth to contend with the Warriors," he added.
The sticking point in the deal is that the Nuggets are not yet willing to part with either of their two best players - 20-year-old guard Jamal Murray and Serbian big man Nikola Jokić - but an agreement could still be reached, Haynes said.
A team that would suffer if George went to Cleveland is the Los Angeles Lakers, who were hoping to nab George to serve as a leader in their locker room, which is budding with young talent.
George, who can become a free agent after next season, had previously expressed interest in returning to LA, where he is originally from, but may not be quick to change teams again if the Cavs move takes place and proves successful.
"If the Cleveland Cavaliers win a title and dethrone the Warriors, Paul George really has to consider his initial basis of trying to get to LA," Haynes said.
"This is going to be a nightmare for the Lakers and could change the entire look of free agency next season."
Whether Cleveland is successful in bringing in George or not, the team will also pursue other big names around the Association this offseason including sharp-shooting forward Carmelo Anthony, who may be freed from his New York Knicks deal.
"If things work out in the Cavaliers favor, they will have the firepower necessary to feel like they can contend with the Golden State Warriors," Haynes said.
Reuters