China's 2018 World Cup hope dims after Syria draw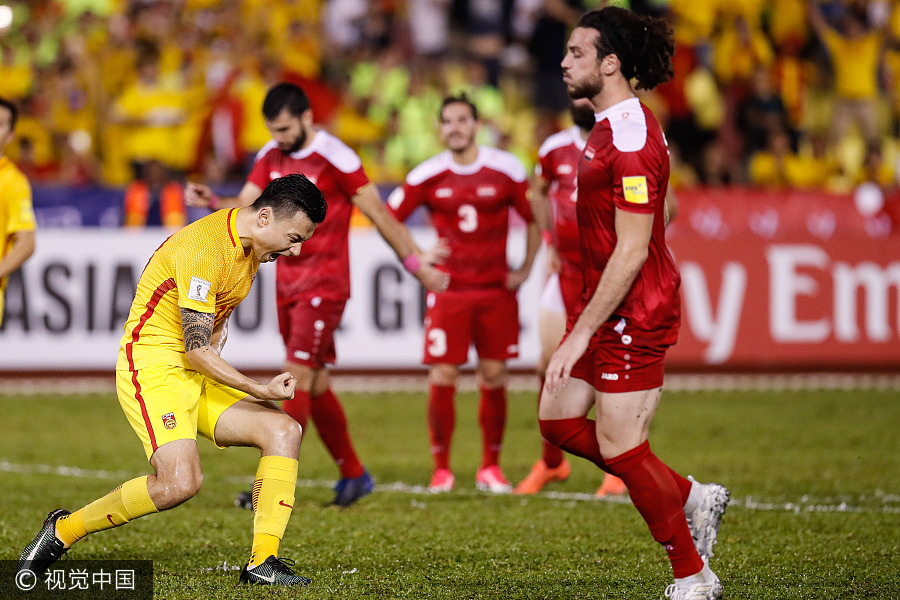 China's Gao Lin celebrates after scoring against Syria during their 2018 Russia World Cup qualifier at Hang Jebat Stadium, Malacca City, Malaysia on June 13, 2017. [Photo/VCG]
With only five points in their previous seven games, China needed a win badly to kept their hope alive to reach the 2018 World Cup. Syria, three points ahead of China, wanted to cut their deficit to Uzbekistan who lost to South Korea one day earlier.
Syria showed their intent early in the match. In the 11th minute, Fahad Youssef was touched down by keeper Zeng Cheng inside China's box and the referee awarded Syria a penalty.
Mahmoud Almawas sent the ball to the left bottom corner but the goal was cancelled by the referee, who believe Almawas' teammates moved before the whistle.
Almawas showed his composure and hit the same corner to gift Syria a comfortable lead.