Zidane hoping to match Milan maestro Sacchi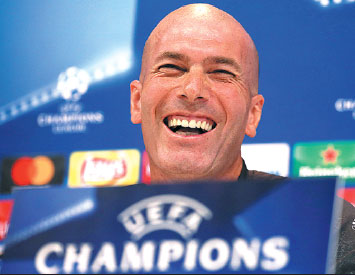 Real Madrid coach Zinedine Zidane laughs during a media conference at Madrid's Valdebebas training base on Tuesday. Sergio Perez / Reuters
Shadow of 'The Prophet' looming large over Champions League final
ROME - Arrigo Sacchi was a revolutionary who came from nowhere to lead a great AC Milan side to back-to-back European Cups in 1989 and 1990.
No coach has achieved that feat since, but Zinedine Zidane will match it if he retains the Champions League trophy with Real Madrid in Saturday's final against Juventus in Cardiff, Wales.
A recent poll on the website of Corriere dello Sport saw Sacchi's Milan named as the greatest Italian team of all time by internet users and the second-best side - behind the 'Grande Torino' team that dominated in the 1940s before being wiped out in the Superga air disaster - by a panel of 10 coaches.
Sacchi's team "dominated Europe with a new kind of soccer, comprised of pressing, strength, speed and ideas," according to the Rome-based sports daily.
Thirty years after Sacchi's appointment as Milan coach, his precepts no longer seem so revolutionary: a 4-4-2 system with zonal marking, the absence of a sweeper, aggressive and constant pressing, pace, the offside trap, intensive training sessions.
But all that was revolutionary when Milan owner Silvio Berlusconi hired him in 1987, despite Sacchi having never played professionally and having only coached in Serie B with Parma.
In a conservative Italian game where defenses dominated, Berlusconi and Sacchi added a new dimension by introducing a more seductive style. "Win, convince and entertain," is how Sacchi summed up his Milan team's outlook.
Nevertheless, the man who would become known as "The Prophet of Fusignano" first of all had to convince those who doubted him largely because he had never played at any notable level.
"I never realized that to become a jockey you needed to be a horse first," Sacchi joked. But Berlusconi's support was crucial at the beginning.
The story goes that before an important match at Verona, when the new coach's methods had yet to convince his squad, Berlusconi made it clear to every Milan player: "Between the team and Sacchi, I take Sacchi. He is staying. I'm still not sure about you."
It worked, and Sacchi was able to implement his methods - ably assisted by the likes of Franco Baresi, Carlo Ancelotti, Paolo Maldini, Roberto Donadoni and the Dutch trio of Ruud Gullit, Frank Rijkaard and Marco van Basten.
Sacchi used to arrive at the Milanello training ground in his silver Porsche and would take sessions while wearing aviator-style sunglasses and with a megaphone in his hand, to compensate for his quiet voice.
With him, Milan won the 'Scudetto' in 1988, its first in nine years, and then those successive European Cups, hammering Steaua Bucharest 4-0 in the final in 1989 and retaining the trophy with a 1-0 defeat of Benfica the next year.
He later led Italy to the 1994 World Cup final, where they lost on penalties to Brazil, and followed that up with a group-stage exit at Euro 96 before returning for a second, unsuccessful spell at Milan and a brief stint at Atletico Madrid.
Sacchi then worked as a youth-team coordinator for the Italian Football Federation and remains a reference point for the new generation of Italian coaches, such as Ancelotti, Antonio Conte and Massimiliano Allegri.
Now 71, the "Prophet" has never disappeared from the landscape, regularly appearing in the Italian media to voice his opinion, without a megaphone this time.
Last year he was overtly critical of the work done by Allegri at Juventus, saying: "The only verb they can conjugate is 'to win'. That might be enough in Italy, like for Rosenborg, who always win in Norway. But not in the Champions League."
On Saturday, then, Allegri has a chance to both prove Sacchi wrong and allow him to remain the last coach to win consecutive European Cups. Otherwise, Sacchi will have to pass that honor on to Zidane.
Agence France - Presse