French Open takes player's credential for harassing reporter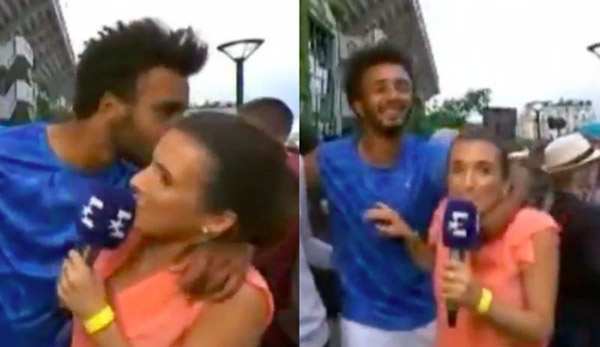 Tennis player Maxime Hamou forcibly grabs and kisses sports journalist Maly Thomas in this screen shot.
PARIS — A French tennis player's French Open credential was revoked because he grabbed a reporter and kissed her on the neck during a live TV interview at the tournament.
The French Tennis Federation announced Tuesday it was punishing 21-year-old qualifier Maxime Hamou "following his inappropriate behaviour towards a female journalist" a day earlier, when he lost in the first round at Roland Garros.
The FFT said it would investigate the matter further.
Hamou's behavior also caught the attention of French politicians.
On Twitter, Sports Minister Laura Flessel called what Hamou did to Eurosport TV's Maly Thomas an "assault." Cecile Duflot, a member of parliament, tweeted : "He kisses her by force, she tries to get away, he holds her by the neck and everyone... laughs #tired."
Flessel and Duflot also criticized 1988 French Open runner-up Henri Leconte and other in-studio guests who laughed at and applauded Hamou's on-air actions.
"A live assault is not funny," Flessel wrote. "We should never let this happen, and never trivialize such acts."Hamou, who is ranked 287th, posted a statement on Instagram on Tuesday in which he apologized to Thomas "if she feels hurt or shocked by my attitude during her interview."He wrote, in French, that he let his "excess of enthusiasm express itself awkwardly toward Maly, who I know and sincerely respect."Hamou added that he would offer an apology in-person if Thomas wants one.
Eurosport said in a statement that it regretted what had happened.
AP