Agassi could bring something special to Djokovic, says Leconte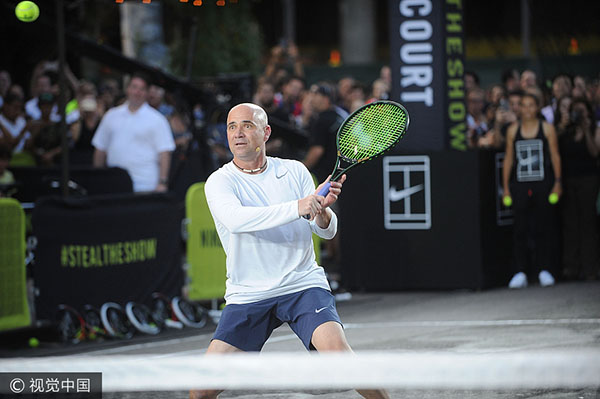 Tennis player Andre Agassi attends Nike's "NYC Street Tennis" event on August 24, 2015 in New York City on August 24, 2015. [Photo/VCG]
LONDON - Novak Djokovic could be on the verge of "something special" after teaming up with Andre Agassi for the French Open, former Roland Garros runner-up Henri Leconte said on Tuesday.
Serbian Djokovic, the defending French Open champion, announced on Sunday that he would have eight-times grand slam champion Agassi in his corner in Paris after parting ways with his coaching team earlier this month.
"It's brand new and good for tennis," Leconte, the last Frenchman to reach the final in 1988, told Reuters.
"I really hope it works because if it does, it could be something special for Novak."
Twelve-times grand slam winner Djokovic ended a three-year partnership with Boris Becker late last year when he lost his world number one status to Andy Murray.
He has struggled to rediscover his best form since winning last year's French Open to complete a career grand slam and this season has seen a run of surprise losses.
Leconte says American Agassi, who came back from a career slump to win the 1999 French Open, could help the 30-year-old find the spark that appears to have been missing.
"I really believe that he can help Novak find his way back to the top," Leconte, who will work as a pundit for Eurosport during the French Open, said.
"Andre has the strength of personality to give Novak advice. He had the experience of coming back after injury problems and other setbacks to come back from 150 in the world to number one.
"It's not about coaching. I think the likes of Novak, Roger (Federer) and Rafa (Nadal) just need something new. A brand new direction. I really hope Novak has enough strength and power to produce what he produced last year."
Reuters