Naturalizing China's talent search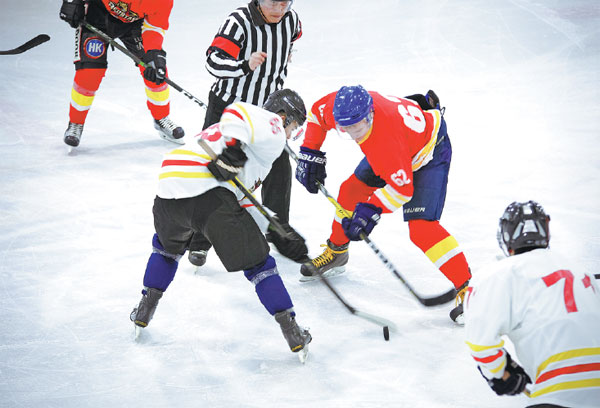 Beijing-based Kunlun Red Star of the professional Kontinental Hockey League is co-sponsoring national team tryout camps in China and Canada, aimed at identifying talent that could boost China's chances of winning a medal in hockey at the 2022 Beijing Olympics. Provided To China Daily
Overseas tryouts will help identify players eligible to skate in Olympics
Chinese hockey is opening its arms to overseas talent in order to bolster the men's and women's national team rosters through naturalization.
In a groundbreaking move, the Chinese Ice Hockey Association recently announced it has sanctioned tryout camps in the Canadian cities of Toronto and Vancouver next month to select players of Chinese ancestry who might qualify for the national teams.
The tryout camps mark the first time a State governing body of any sport in China has opened its national program to overseas talent tasked with boosting its Olympic prospects.
The camps, co-organized by Kunlun Red Star, China's Beijing-based franchise in the professional Kontinental Hockey League, will evaluate players born in China or overseas after Jan 1, 1990, who are willing to apply for national team eligibility.
Wang Zhili, deputy director of the National Winter Sports Administrative Center, said more than 40 players have signed up to participate in the tryouts. The application deadline is May 22.
"Our preparation for the 2022 Olympics is urgent, considering what we hope to accomplish in such a limited time," Wang said at Tuesday's signing ceremony of Red Star's partnership with the national program. "We have to break from the traditional system in order to seek all available talent and maximize our resources."
China has set goals for its world No 18 women's team to win a medal at the 2022 Beijing Olympics and for the men's squad, currently ranked No 37, to qualify for the tournament and perform "decently", said Wang.
"As long as foreigners of Chinese ancestry are willing to give up their current citizenship, we will welcome them with open arms into our national program," he said.
According to International Ice Hockey Association rules, male players must have at least two consecutive hockey seasons in the national competition of an adopted country after changing citizenship in order to be eligible to represent the country on the international stage.
Female players need one season under the same rules to be eligible.
South Korea recently reaped the benefit of that policy when its men's national team qualified for the 2018 Pyeongchang Olympics with the help of six Canadian-born naturalized players.
Kunlun Red Star defenseman Zack Yuen, a fourth-round pick by the Winnipeg Jets in the 2011 NHL draft, is intrigued by China's overseas recruitment initiative.
"It's a great opportunity," said the 24-year-old, who was born in Vancouver to a Chinese immigrant family. "I'd love to trade my Canadian passport for Chinese citizenship in order to play at the 2022 Olympics. This is my ultimate goal,"