Sore Sun's countdown conundrum
Pool great dominates at nationals, but admits Tokyo Games in doubt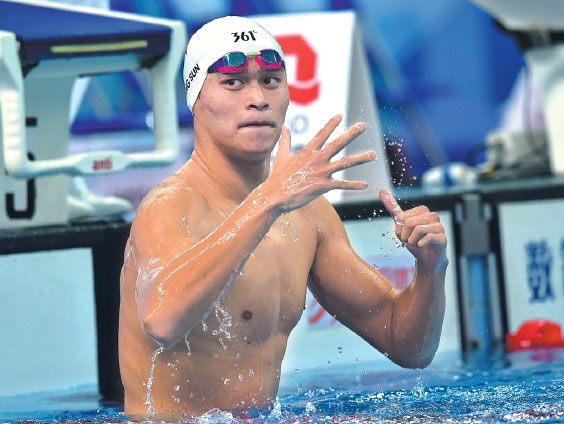 Triple Olympic champion Sun Yang gestures after winning the 1,500m freestyle at the China National Swimming Championships in Qingdao, Shandong province, this week. Winner of five freestyle events, the Zhejiang province native is tentatively aiming to add to his Olympic haul at the 2020 Tokyo Games.
QINGDAO, Shandong - Sun Yang cemented his status as China's top freestyler at the Chinese National Swimming Championships over the last week - but the triple Olympic champion admitted the physical toll of the sport has left him doubting his participation in the 2020 Tokyo Games.
After almost eight months away from competition following his Rio Games exertions, the 25 year-old won golds in all his events - the 100, 200, 400, 800 and 1,500m freestyle - over eights days in Qingdao, posting world-leading times in the 200 and 400.
However, he suffered for his impressive haul.
"I had a stomachache during the winter training and kept taking medicine until now. I've been eating less than a girl," said Sun, who also had to battle through back and shoulder pain in the 1,500m final.
"To keep fighting is never easy. I did feel tired, but it's good practice for me, and I'm happy that I managed to fulfill the plan," he added.
Sun's plans for the Tokyo Olympics, however, remain hazy.
China's most successful swimmer of all time, Sun topped the podium in the 400 and 1,500m freestyle at London 2012 and took 200m gold at the Rio Games four years later, despite hardly training for six months in the build-up after twice fracturing metatarsal bones in his left foot.
The Hangzhou native contemplated retirement after Rio, and while he vowed to try his best to compete in Tokyo, the thought of more years of punishing training has left him feeling uncertain.
"Day after day, no matter summer or winter, you have to get up so early and swim in the pool repeatedly. It's enough to drive you nuts sometimes," said Sun.
"During the championships, sometimes I left the aquatic center at 10 pm. All the lights were turned off and all the gates were shut. We had to find a back door to go out."
Most Popular
Highlights
What's Hot