Barca can turn Euro pain to Clasico gain-Enrique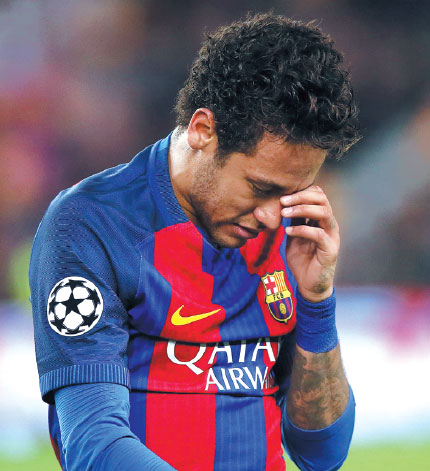 Barcelona's Neymar looks dejected after the UEFA Champions League quarterfinal, second-leg match against Juventus at Camp Nou in Barcelona on Wednesday. The match ended 0-0 as Juve advanced to the semifinal 3-0 on aggregate. Albert Gea / Reuters
BARCELONA - Barcelona boss Luis Enrique said his final season in charge can still end in glory despite bowing out of the Champions League at the quarterfinal stage to Juventus on Wednesday.
Juventus held onto its 3-0 first-leg lead to progress to the last four by blunting Barca's star-studded attack in a 0-0 draw at Camp Nou.
Neymar left the field in tears, but around the stadium there was appreciation for Barca's valiant effort by the crowd, estimated at 100,000.
"It's a sad night, but we tried until the last minute and that was recognized by the fans at the end," said Enrique, who will step down at the end of the campaign.
"This is a team that never gives up, that fights for every title, doesn't relax and always accepts the challenge.
"It is a joy to belong to a club like this."
Barca now travels to face arch-rival Real Madrid in El Clasico on Sunday, realistically needing to win to maintain its hopes of a third straight La Liga title.
Most Popular
Highlights
What's Hot