Li Yongbo steps down as badminton head coach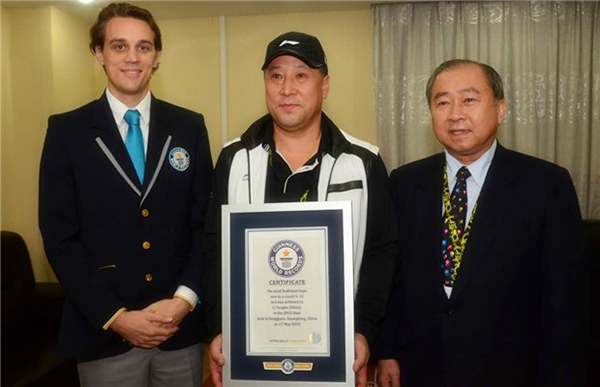 Li Yongbo(C) receives recognition from Guinness World Records representatives for winning the most Sudirman Cups, Oct 29, 2015. [Photo/ Guinness World Records Weibo]
China's badminton head coach Li Yongbo has stepped down from the head coach post of China's national team and will be reassigned to an advisory panel with the Chinese Olympic Committee, qq.com reported on Tuesday.
Li, who is now overseeing a tournament in Singapore, confirmed in a response to the website on Tuesday that he won't seek another term as the head coach of China's national badminton squad as the team will reshuffle its coaching crew next month before the 2017 Sudirman Cup in Australia.
Regrouping coaching staff after every Olympic Games has been routine within China's sports system, adopted by a variety of national squads to stay fresh and motivated to prepare for another Olympic circle.
Li, however, has sat through six Olympic Games in the high-profile position since 1993 due to the team's undisputed prowess at major events under his helm.
After his retirement, Li will extend his career as a member of a newly-established advisory body affiliated with the COC. Renowned ex-national coaches from other events, such as Wang Yifeng of shooting and Sun Haiping of athletics, will join Li on the panel, which is tasked with providing proposals for youth sports promotion and massive fitness development.
"After serving so many years in the post, I have felt the fatigue more than ever ... and I've realized it's time to step back from the frontline to allow the younger generation to lead the team with a new philosophy. That's probably better for the team's future," Li said in the qq.com report.
During his 24-year tenure as head coach, Li worked to develop Team China into a world dominating power in badminton, winning 18 Olympic gold medals from 1996 to 2016, 10 Sudirman Cup world mixed team championship titles and nine Uber Cup (women's team world championship), as well as five Thomas Cup (men's team) titles.
However, Li's progressive winner-take-all mindset and outspoken personality have seen him in hot water constantly throughout his career, highlighted by the match-throwing scandal during the 2012 London Olympics.
After the pool stage of the women's doubles tournament in London, China's then-world No 1 pair, Yu Yang and Wang Xiaoli, were disqualified from the Games for intentionally losing in a group game at Li's behest in an attempt to secure a preferential draw for the knockout phase.
Team China's subpar performance at the 2016 Rio Olympics, where it bagged only two gold medals, the least number since 2000, in men's singles and doubles, coupled with the men's squad's shock exit from the Thomas Cup earlier at home, triggered calls from media and fans to replace Li.
Most Popular
Highlights
What's Hot