Barcelona makes history with 6-1 comeback win over PSG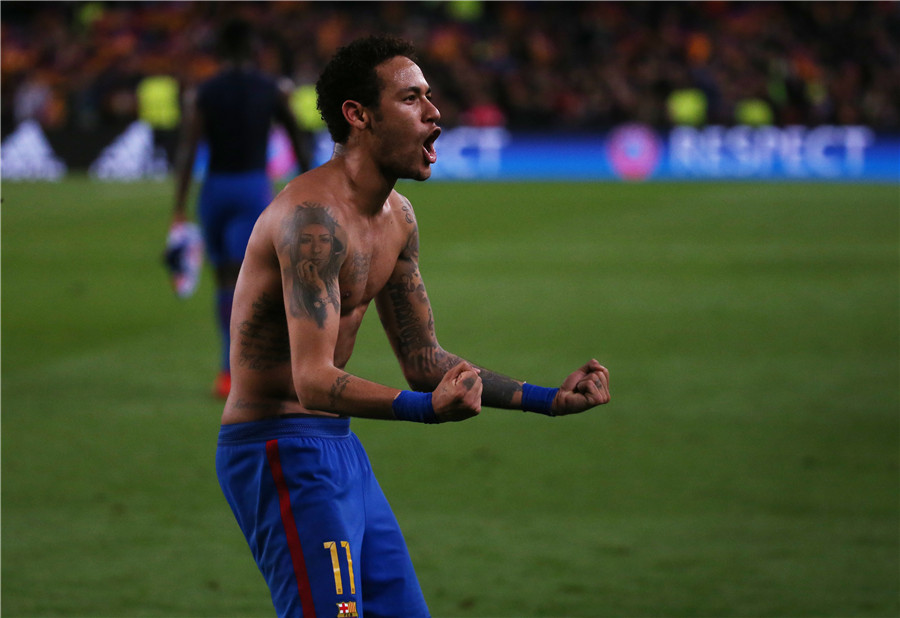 Barcelona's Neymar celebrates after the game between Barcelona and Paris St Germain in the UEFA Champions League Round of 16 Second Leg in Barcelona, Spain on March 8, 2017. [Photo/Agencies] 
And Neymar led the way, pulling off one of the most remarkable sequences seen at the ground of the five-time champions.
He struck first with a curling free kick from the left flank that slipped inside Trapp's near post.
Next, he took responsibility for converting the spot kick after Suarez was shouldered down by Marquinhos in the box.
The best was saved for last, when his pass was lofted over the defense and fell for Roberto to stretch out far enough and turn the ball into the net.
"I just threw myself forward," said Roberto, who went on in the 76th minute. "After the loss in Paris, we were all very down. But this team, if there is something it has proven, it's that it is made for nights like this."Barcelona had set a precedent in the 2012-13 season's Round of 16 when it became the first team to erase a 2-0 away leg loss by roaring back to beat AC Milan 4-0.
Nothing, however, compared to the challenge faced against PSG, a side that hadn't lost in 16 matches overall and completely outplayed Barcelona during the first leg in Paris.
Barcelona midfielder Arda Turan tweeted after the match: "You call it "football team", we call it "Bar?a". You call it "miracle", we call it "normal" #For?aBar?a."It was a demoralizing end for PSG. The French side was on the verge of avenging quarterfinal exits to Barcelona in 2013 and 2015 and earning an elusive marquee victory that its Qatari owners were longing for. Instead, it must remain in the second-tier of talented but ultimately flawed European teams.
"Three weeks after winning 4-0, we lose 6-1. That's very, very hard to accept," said PSG president Nasser Al-Khelaifi.
In the night's other second-leg match, Pierre-Emerick Aubameyang scored a hat trick and Christian Pulisic claimed his first Champions League goal as Borussia Dortmund overcame Benfica 4-0 to advance with a 4-1 win on aggregate. The draw for the quarterfinals will be held in Nyon, Switzerland on March 17.
Associated Press