Putting a name on her potential
Destanee shows she's ready for tougher tests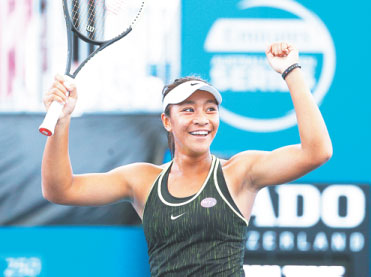 Australia's Destanee Aiava celebrates winning her first-round match against Bethanie Mattek-Sands of the US at the Brisbane International on Tuesday. [DAVE HUNT/AAP IMAGE/AP]
Destanee Aiava is a teenager with a record that nobody born in this millennium can match.
The 16-year-old Australian advanced through qualifying before becoming the first player born in the 2000s to win a main draw match at an elite WTA event, beating veteran American Bethanie Mattek-Sands 2-6, 6-3, 6-4 in their first-round match at the Brisbane International on Tuesday.
Aiava is set for another memorable mark, too, after being granted a wild-card entry to the Australian Open starting on Jan 16 in her hometown of Melbourne.
She will become the first player born in the 2000s to play a main-draw match at a Grand Slam event.
Her first win in Brisbane's main draw didn't come easily, spanning two days and giving her plenty of time to think about it.
Heavy rain forced a postponement on Monday night when she led 3-0, 40-15 in the third set.
Aiava briefly struggled with her serve when play resumed on Tuesday, but she overcame a couple of double-faults and held on to close with an ace on her first match point.
"I struggled a bit at the end, but I got through it," she said.
The 31-year-old Mattek-Sands played her first Grand Slam match at the US Open in 2001 and has played her home major every year but one since then.
Aiava, who was born on May 10, 2000 and was No 386 in the latest rankings, is at the start of her tennis journey.
Her Brisbane trip was cut short on Wednesday when she lost 6-4, 6-3 to 31-year-old Svetlana Kuznetsova, a two-time Grand Slam champion who is seeded No 5.
Aiava had already brushed shoulders with some stars of the sport. In 2012, she won the Longines Future Tennis Aces tournament in Paris and her prize was an opportunity to hit with 22-time Grand Slam winner Steffi Graf.
Still, the Melbourne high school senior has had to come to terms with meeting star players in the locker room for the main draw, which is far different to the qualifying tournaments.
"Pretty crazy. I walk in, and there are people I have watched on TV before and it's, like, 'Wow!'"
Aiava grew up in Australia to parents of Samoan heritage. Her mother, Rosie, is a self-taught tennis coach and has guided her daughter since she showed interest in the game at age five. Her father, Mark, is a power lifter who handles her strength and conditioning training.
They both keep their teenage daughter grounded.
For instance, Aiava was asked what words of wisdom her mother imparted after the historic win.
"She just said, 'Good job,' and took me to the practice court," Aiava said.
She spent the following 20 minutes working on her serve and "just getting some rhythm back into my hitting."
Aiava began playing at the age of five after watching Serena Williams in the Australian Open.
"I think it was just her vibe," she said of Serena.
"I couldn't feel it from the other side of the TV, but it was just, like, her energy that kind of drew me to the sport."
Aiava's powerful physique has drawn comparisons with Serena, and the teenager admitted she has based her game on the American superstar."
Not so much a girl's game-more a guy's game," she said. "More variety."
Aiava knows she's attracting wider attention than ever now, particularly with a first name tailor-made for headline writers, but said she's trying to keep her preparations tight for the Australian Open.
For the record, she said she prefers to be known by the abbreviated name, Des.
"As long as I have a small circle of people that help me to stay grounded," she said, adding that she wasn't surprised how she matched up with Mattek-Sands after an admittedly tight start in the first set.
"That's why I have been working so hard on getting my game to a professional level."
Most Popular
Highlights
What's Hot