Rockets shot down from space
Late 3-pointer by uncovered Mills ends Houston streak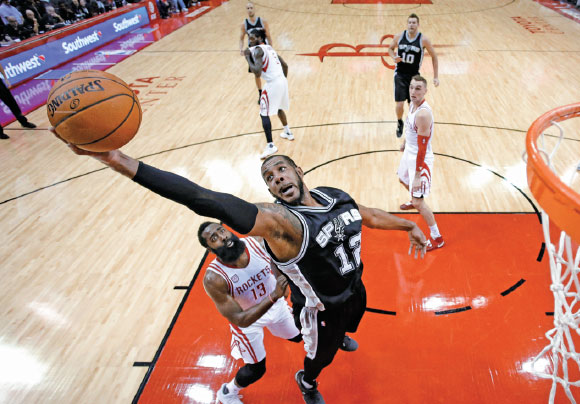 San Antonio Spurs' LaMarcus Aldridge reaches for a rebound over Houston Rockets' James Harden during the first half of their NBA game on Tuesday in Houston. The Spurs won 102-100. David J. Phillip / Ap
There was no trick or secret to how Patty Mills found himself in wide-open space to make the winning shot against the Houston Rockets on Tuesday night.
"I have no clue, mate," said the San Antonio Spurs' Australian point guard.
"I didn't do anything other than just stand there. It was a heck of a pass right in the shot pocket."
Mills hit a 3-pointer with 12.9 seconds left to lift the Spurs to a 102-100 victory, snapping Houston's NBA-best 10-game winning streak.
After Mills scored, Eric Gordon missed a 3-point attempt and Manu Ginobili missed two free throws to give Houston one last chance, but James Harden's 3-point attempt bounced off the rim at the buzzer.
"The biggest thing that happened is that we had about three or four wide-open shots we missed," Houston coach Mike D'Antoni said.
It was San Antonio's fifth straight victory and improved the Spurs to 15-1 on the road.
Kawhi Leonard led the Spurs with 21 points while LaMarcus Aldridge added 17 points and 10 rebounds.
Harden finished with 31 points, 10 rebounds and seven assists.
"It's real tough, especially when we let two big leads slip away," said Harden.
"We've got to close the game out. I didn't close the right way. We didn't close the right way as a team."
A 3-pointer by Danny Green with less than a minute left got the Spurs to within a point, 100-99. Houston then committed two turnovers in less than 10 seconds to give San Antonio the ball back with 28.5 seconds left and set up the wide-open shot by Mills, who had 13 points.
The Rockets hadn't scored in over two minutes when Harden drove into the lane and made a layup with 2:29 left. Trevor Ariza followed with a layup before stealing from Leonard, making it 100-94.
The Spurs were down by five midway through the fourth quarter before Houston used a 9-1 run to extend the lead to 96-83.
San Antonio got hot after that, scoring the next 11 to trail 96-94 with less than three minutes to go.
The Spurs made three 3-pointers, capped by one from Green, to close the gap and were helped by two turnovers by Houston.
San Antonio took a 80-79 lead with around 10 minutes left. Ginobili and Mills hit consecutive 3-pointers at the end of that span to prompt D'Antoni to take a timeout.
Houston's Sam Dekker got the crowd going soon after that when he leaped to steal a pass by Ginobili and crashed to the court as he was fouled after he drove into the lane for a shot on the other end. He made both free throws to leave Houston up 85-80.
Most Popular
Highlights
What's Hot