Mourinho: Ibra not here for ride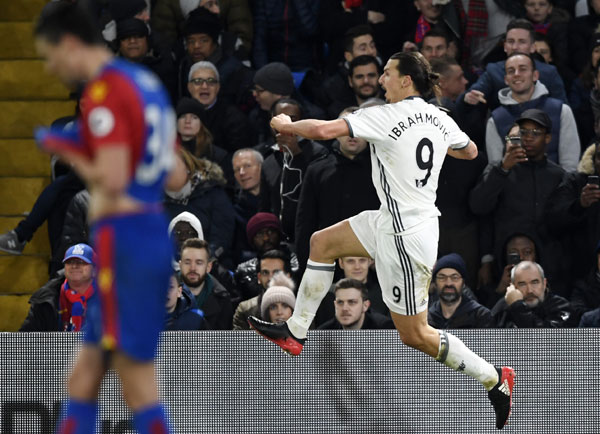 Zlatan Ibrahimovic jumps for joy after scoring Manchester United's winner against Crystal Palace during their English Premier League match at Selhurst Park in London on Wednesday. [Photo/Agencies]
Veteran's vintage display dispels doubts, says Jose
Jose Mourinho reckoned Zlatan Ibrahimovic's performance in Manchester United's win at Crystal Palace on Wednesday proved the striker did not move to the Premier League to wind down his career.
Ibrahimovic arrived at Old Trafford as a free agent in the summer and the 35-year-old's late winner at Selhurst Park took his United tally to 14.
The Swede also set up Paul Pogba's opener - controversially, with Ibrahimovic admitting he might have used his arm - and manager Mourinho reckoned the veteran's all-round game against the Eagles showed he retains his hunger.
"It's difficult to say someone is my best ever signing, but I knew the character because, at this age, he's a character, a personality, who has passion to play," said Mourinho.
"The quality is there. I knew that he could do what he's doing here. I said England is not the best place to be on holidays.
"When a rich guy with a phenomenal career wants holidays, he doesn't come to England.
"It's the most difficult league in the world, so if you come here, you want to show what you can do. That's what he did. It's not just about goals. It's about leadership and motivation. I'm so happy with what he has done."
James McArthur canceled out Pogba's first-half opener in the 66th minute, but Ibrahimovic earned United's victory with two minutes left.
Palace boss Alan Pardew was convinced Pogba's goal should not have stood because of an offside and that United defender Marcos Rojo should have been sent off by referee Craig Pawson for a two-footed challenge on Wilfried Zaha.
"From the sidelines, it did look bad," said Pardew. "He jumps two-footed, and we go to all these (referee) meetings where that's a red card.
'Rojo is clean'
"The first goal was a call the linesman should have seen. I thought it was offside, even from where I was standing.
"He refereed the game aggressively. A lot of fouls, and it could have flowed a bit better."
Mourinho defended Rojo, but refused to give an opinion on Pawson's failure to spot an apparent handball by Palace midfielder Joe Ledley in the host's penalty area before ruling out a Juan Mata strike for offside.
"Rojo is playing really well, phenomenal. He's a clean player, aggressive. His nature is emotional but very clean," said Mourinho.
United is sixth, but after beating Tottenham last weekend, Mourinho was upbeat.
"If we'd had the points we lost at home, or not drawn matches we'd done more than enough to win, we'd be close to the top of the league," said the former Chelsea chief.
"But we lost those points, and now we are just closing the gap to the top four.
"Three matches until the end of the year - let's see how it ends on Dec 31 and we can feel and smell what is possible to do in the second half of the season."
Looking ahead to United's Christmas schedule, Mourinho added: "Now comes West Bromwich Albion - very difficult - and then Sunderland and Middlesbrough, and Leicester, who are a few points from relegation. Very difficult. But we are playing well."
United defender Eric Bailly damaged his left knee in his first league start since returning from a right-knee injury.
"He has a problem, but we don't know the dimension. He showed amazing character to try and try and try," Mourinho said.
Most Popular
Highlights
What's Hot