China Cup will help measure progress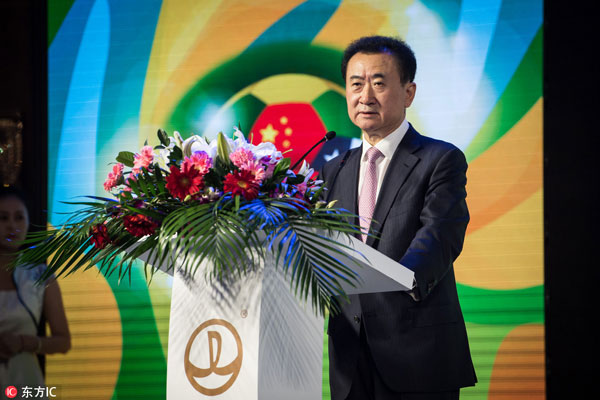 Wang Jianlin, chairman of Wanda Group, delivers a speech at a press conference of the 2017 China Cup International Football Championship in Beijing, December 7, 2016. [Photo/IC]
With a slim chance of punching a ticket to the 2018 World Cup, China is ramping up efforts to hone its national team's skills against high-level opposition.
The latest initiative is the GREE China Cup, which will debut next month in Nanning, capital of Guangxi Zhuang autonomous region.
The tournament will showcase China against Iceland, Chile and Croatia - and hopefully provide a gauge of how the national team stacks up against some of the best in the world.
"We only invited overseas teams ranked among FIFA's top 30 in the world," said Wang Jianlin, president of sponsor Wanda Group, which organized the event in cooperation with the Chinese Football Association.
"We hope the China Cup will become a great platform for the national squad to play against the top-class teams in the world, and also a great opportunity to promote the development of the sports industry in China," added Wang.
Wanda Group and the CFA have inked a 10-year deal to host the FIFA-recognized tournament, which kicks off on Jan 10 when China takes on Iceland, ranked 21st in the world after its stunning run to the Euro 2016 quarterfinals.
Most Popular
Highlights
What's Hot