Chinese tennis officials reach top echelon
As tennis grows into mainstream popularity in China, homegrown game officials are catching up with the world's best thanks to the increasing international exchanges and professional drills at home.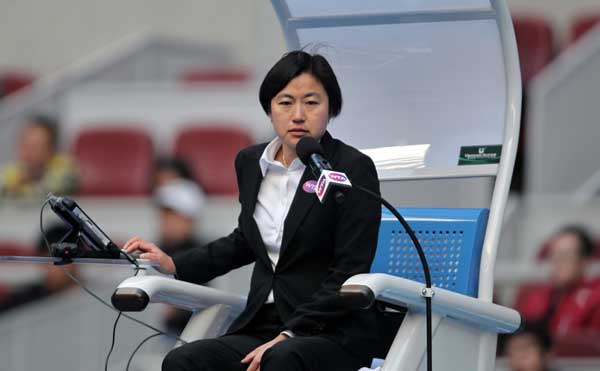 Zhang Juan is the first and only Chinese chair umpire with a gold badge, the highest international certificate.Provided To China Daily 
Since two-time Grand Slam winner Li Na retired in 2014, tennis fans in China have been eager to see their next compatriot appear at the final of a major tournament. Few would have expected that the next one making it there might not be a player.
With China's current players still honing their game, with relatively low rankings, some of the nation's officiating crew have already risen to the top echelon, obtaining international certificates high enough to judge Grand Slam-level tournaments.
Zhang Juan is one of those Chinese officials. Zhang made history at this year's Women's Tennis Association Championships in Singapore, becoming the first Chinese chair umpire officiating the final of the prestigious year-end tournament.
As the first and only Chinese chair umpire with a gold badge, the highest international certificate, Zhang also officiated the singles final of this year's China Open tournament, which is one of the top women's events outside the four Grand Slams. There are three gold-badge officials overall in China.
"The level of recognition that she earned in her job is no less than Li winning Grand Slams. It was second to none in China," said Wan Jianbin, director of the competition department of the Chinese Tennis Association.
"The presence of Zhang and other gold-badge officials at elite tournaments proves the competency of Chinese in this job. But the number of internationally certified officials in our country remains small due to the lack of experience and professional drills," said Wan.
In professional tennis, officials are classified into three categories: the chair umpire, chief umpire and referee.
Unlike a chair umpire, who officiates a match in a tall chair at courtside, a chief umpire assigns and manages on-court officials including line judges, while a referee supervises all aspects of play to ensure that the tournament runs under International Tennis Federation rules.
The ITF, in cooperation with the WTA and the Association of Tennis Professionals, ranks officials by issuing different color badges.
A white badge is the lowest level, attained by graduating from ITF Level 2 Officiating School. Next is a bronze issued to those who pass all the written and practical tests at level 3 school. Officials move up to silver and then gold, the highest level, based on annual evaluations of their work rate and performance.
White-badge officials are normally assigned to domestic events, while bronze and silver officials conduct early rounds at pro tour events. Only the gold badge holders are eligible for final rounds of major tournaments.
There are six Chinese officials with silver and six with bronze badges in the three categories combined. Many have more than one badge.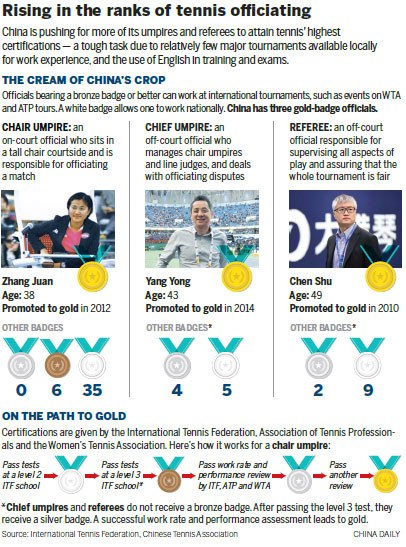 Yin Jianwei, who just earned a referee's silver badge from a level 3 school in Shanghai in October, said surviving the comprehensive tests is much tougher than expected.
"The evaluation started at the very first moment in the class. How you communicate with the tutors, how active you are in answering questions and how intelligently you react to case studies all count toward your final assessment, not to mention random written tests," Yin said of the three-day course.
It was the first time that ITF hosted its level 3 school in China. Seven out of eight Chinese participants passed the evaluation to obtain bronze and silver badges, elevating the number of Chinese officials holding white or higher badges to 47.
"With an increasing number of professional tournaments held in China every year, the international tennis community has sensed the game's growth here as well as the pressing need to educate local officials," said Wan.
According to the CTA, the country hosts 12 tournaments on the WTA and ATP tours, amassing a total of 78 events including lower-level ITF tournaments, while there were only three WTA and ATP events in 2010.
Chen Shu, China's only gold-badge referee, said tournaments held at home greatly benefit young officials.
"More events at home provide more drills to improve and closer access to accumulate experience at their doorstep. When I started in the 1990s, it was more difficult because I had to travel overseas to chase events, one after another," said Chen, who is now vice-president of event operations for WTA Asia Pacific.
Apart from the ITF schooling program, the CTA has organized 16 national-level training seminars involving at least 1,000 officials and has sent 230 officials, including line judges, to officiate 1,200 matches overseas in the past five years.
sunxiaochen@chinadaily.com.cn
Most Popular
Highlights
What's Hot