Fresh delays hit Chinese group's bid to buy AC Milan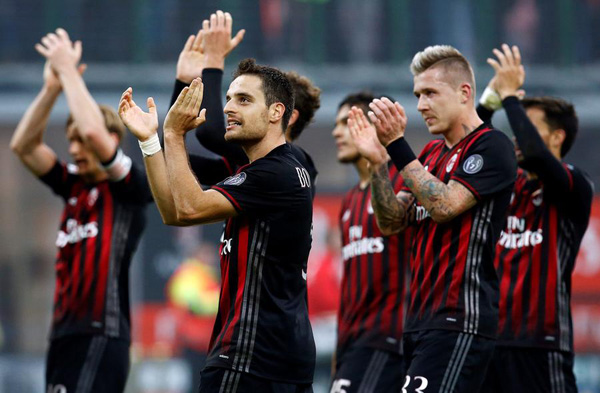 AC Milan players applaud after their Serie A match against Pescara at San Siro stadium in Milan, Italy in this Oct 30, 2016. [Photo/Agencies] 
The Chinese consortium attempting to buy Italy's AC Milan Serie A soccer club has agreed with the current owners to postpone the acquisition until March 3 after the buyers failed to secure the relevant authorization from Chinese authorities, Fininvest said.
Sino-Europe Sports Investment, an investment vehicle operated for the Chinese consortium, will pay a further non-refundable deposit of 100 million euros ($107 million) by Dec 12 as part of the latest agreement.
The Chinese investors group, backed by Haixia Capital which is chaired by entrepreneur Li Yonghong, signed an agreement with former Italian Prime Minister Silvio Berlusconi's Fininvest this August to take full control of the Italian club and its debt for 740 million euros ($793 million).
According to Fininvest, the Chinese consortium has already paid a non-refundable deposit of 100 million euros in two tranches. The purchase agreement also requires the buyer to provide another 350 million euros of funding to AC Milan during a three-year period.
However, people with knowledge of the matter said in September that the Chinese buyers did not have all of the financing in place when they agreed on the deal with Fininvest.
The protracted acquisition appears to have been beset by problems, said football pundits.
Simon Chadwick, a professor of sports enterprise at Salford Business School in Manchester, said: "The deal is likely to have been a hugely sensitive one, given the iconic nature of the club involved and the political astuteness of the existing owner."
But he also pointed out that Chinese investors may have overstretched themselves, because they appear to have struggled to get the required money together.
"Such deals are often brokered by intermediaries who sometimes have their own best interests at heart. The alleged delivery of a fake note allied to the prospective buyers' denial of this suggests that, behind-the-scenes, this is proving to be a highly fractious deal," Chadwick said.
Media reports in September said a fake letter claiming to be from a bank had been put forward, a claim the Chinese group dismissed as "groundless".
China's retail giant Suning Commerce Group acquired Inter Milan, AC Milan's great rivals, in a deal worth 270 million euros in June.
wangmingjie@mail.chinadailyuk.com
Most Popular
Highlights
What's Hot