Another routine night for Russell
Westbrook's sixth straight triple-double powers Thunder to victory over Hawks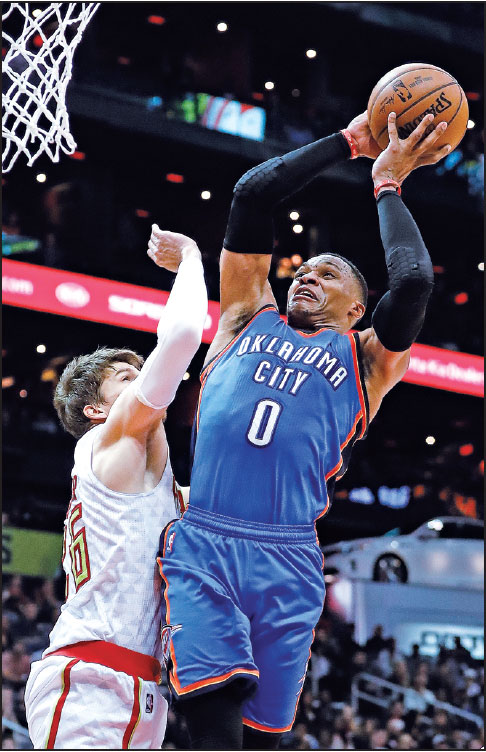 Oklahoma City Thunder guard Russell Westbrook shoots over Atlanta Hawks' Kyle Korver in the second half of their NBA clash in Atlanta on Monday night. OKC won 102-99.John Bazemore / AP
At first, Russell Westbrook couldn't get the shots to fall on Monday night.
No problem. He crashed the boards and kept looking for his teammates.
Then he found his shooting touch.
The result was another triple-double for the Oklahoma City superstar.
Westbrook scored 32 points, grabbed 13 rebounds and dished out 12 assists, extending his streak of triple-doubles to six games as the Thunder held off the Atlanta Hawks 102-99.
It is the NBA's longest such run since Michael Jordan had seven in a row in 1989.
"I just read the game," Westbrook said. "The game will tell you what to do."
Westbrook has sparked a six-game winning streak by the Thunder and reached double figures in all three categories in half of the team's 22 games.
By contrast, Jordan had 15 triple-doubles for the entire 1988-89 season.
"Obviously, the league hasn't seen something like this in a long, long time," Thunder coach Billy Donovan said.
Westbrook kept his streak alive with plenty of time to spare. He had 15 points and 11 rebounds when he picked up his 10th assist with 6:20 left in the third quarter.
Scooping up a loose ball after a turnover by the Hawks, Westbrook led a 2-on-1 that ended with a pass to Victor Oladipo for a layup that gave the Thunder a 69-59 lead.
"My job is to find those guys," Westbrook said.
He found his range in the third quarter after missing eight of his first nine shots.
Most Popular
Highlights
What's Hot