Former FIFA president Blatter loses appeal against ban
LAUSANNE, Switzerland - Former FIFA president Sepp Blatter has lost his appeal against a six-year ban for ethics violations, imposed amid the biggest corruption scandal to shake the world soccer body, the Court of Arbitration for Sport (CAS) said on Monday.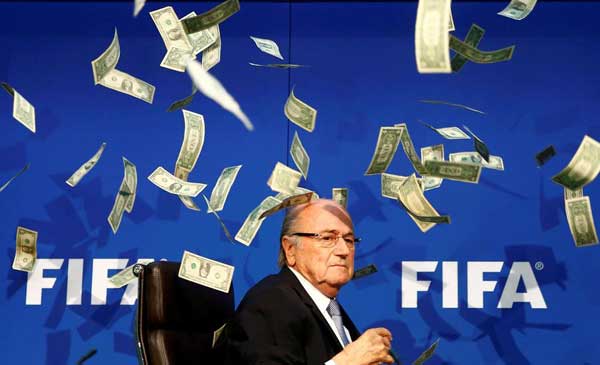 British comedian known as Lee Nelson (unseen) throws banknotes at FIFA President Sepp Blatter as he arrives for a news conference after the Extraordinary FIFA Executive Committee Meeting at the FIFA headquarters in Zurich, Switzerland July 20, 2015.  [Photo/Agencies]
CAS ruled that Blatter had authorised payments to Michel Platini, then the European football boss, worth over $2 million that amounted to "undue gifts" and therefore violated FIFA's code of ethics.
Blatter, who led FIFA for 17 years, told Reuters in a telephone interview that he was "disappointed but not shattered".
He resigned in June last year after several dozen football officials, including FIFA executive committee members and former members, had been indicted in the United States on graft charges, along with two sports marketing firms.
The 80-year-old Swiss was not among those indicted, but became embroiled in scandal when he was banned from all football-related activity the following December by FIFA's Ethics Committee along with Platini, then president of the European soccer body UEFA.
The men were banned, initially for eight years, over a payment of 2 million Swiss francs ($1.98 million) that FIFA made to Platini in 2011, with Blatter's approval, for work done a decade earlier. The bans were reduced to six years by FIFA's appeals committee in February.
Both men denied wrongdoing and Blatter said the payment related to a verbal agreement.
CAS said in a statement that its three-man panel had determined that Blatter "breached the FIFA code of ethics since the payment amounted to an undue gift as it had no contractual basis".
"The Panel further found that Mr Blatter unlawfully awarded contributions to Mr Platini under the FIFA Executive Committee retirement scheme which also amounted to an undue gift."
Most Popular
Highlights
What's Hot