China has winning formula for taking snooker world by storm, says O'Sullivan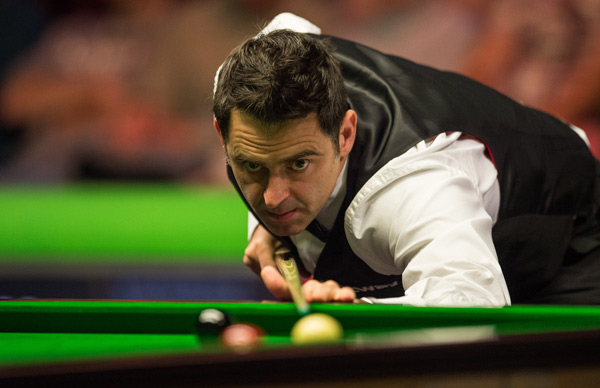 Ronnie O'Sullivan competes during the fourth round match at the Snooker UK Championship in York, Britain on Nov 30, 2016. [Photo/Xinhua]
YORK, England - Five-times world snooker champion Ronnie O'Sullivan said Wednesday that the emergence of so many good Chinese players was due to kids learning the sport from an early age.
He lamented that in Britain and even Europe the route for young snooker players to reach a professional level was poor.
O'Sullivan said he wants to see a return of the amateur snooker clubs where he and many of the greatest British players learned their skills.
In a frank interview at the UK Championship, O'Sullivan spoke candidly about the state of the game and why there is so much interest now in the game in China, and why China is taking the game by storm.
"That is where the interest seems to be. It doesn't mean snooker has to go away from the UK, it is a global sport. Formula one travels around the world. China is a strong market with a strong economy and they have a thirst for snooker."
O'Sullivan was asked what he thought about the development of the game in Britain when so many young players from China, aged 15 or 16, seemed to be completely overtaking players coming through in Europe.
He responded: "It's because there is no grass roots in the UK. When I came through the amateur game as a kid there was a junior tournament or a pro-am every week. There were people like Ken Doherty playing week in week out against each other, and I was in there as well as Mark Williams. We just got stronger and stronger because it was such a good breeding ground to take the game to a higher level. It was a dream to turn professional if you were good enough.
"There isn't that junior amateur field now. Whereas in China they do gave it, and they have a center where a lot of the best kids play, and the best are taken to Beijing.
"That is why we are seeing a lot of good Chinese players coming through. Generally in England or the UK and even Europe it is really poor and I don't see anybody coming through."
He wants to see a return to snooker clubs, generating a good amateur ground, saying: "that's what I came through and that is what Stephen Hendry came through. It's what most sports do."
The snooker ace also said the game had too many 128 events where it was quantity over quality, and tournaments involving far too many players.
O'Sullivan said: "When you are trying to cater for 128 it is maybe holding back the sport when it could maybe do better if they thought about more tournaments for the top 32 or top 16.
"Big promoters would generally not want to be messing around with too many people who don't pull in the crowds or the viewing figures."
Most Popular
Highlights
What's Hot