China Open building a legacy
Prestigious tournament plays role in helping broaden game's appeal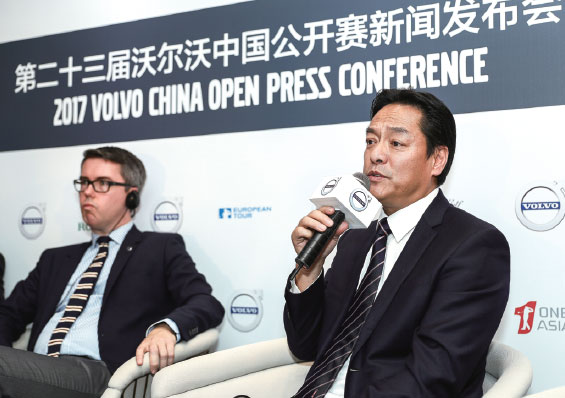 Wang Liwei, vice-president of the China Golf Association, joins Sven De Smet, vice-president of marketing for Volvo Cars Asia Pacific, in answering questions during Tuesday's media conference in Beijing.
Swedish automaker Volvo is driving a new wave of golf interest in China.
In conjunction with the 23rd edition of the Volvo China Open, set for April 27-30 at Topwin Golf and Country Club in Huairou, Beijing, the company on Tuesday unveiled a new "Volvo in Golf" strategy, targeting development of the Chinese market.
"Topwin presents a fine challenge for a world-class field of players and has a wonderful setting close to the Great Wall," said Sven De Smet, vice-president of marketing for Volvo Cars Asia Pacific.
"I still have vivid memories of Li Haotong's amazing final round of 64 to clinch last year's title and the delight of the crowds who came to watch. Li will come back to defend his title and hopefully Topwin will be a lucky course for him again.
"It will be a thrilling week and we're expecting even bigger crowds."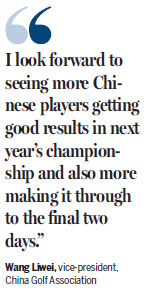 The China National Open has witnessed many talented players emerge from the nation's junior ranks, including Li, who won both the Volvo China Junior and Volvo China Open championships.
"It was a dream come true to win the Volvo China Open," Li said in a video link from the DP World Championship.
"The victory earned me a two-year exemption on the European Tour and gives me an opportunity to compete in some world-class events and further hone my game.
"I will fully prepare for my defense of the Volvo China Open title. Nobody has won it twice, so it would be a fantastic experience to be the first to do it."
Responding to praise from both international and local players, Topwin Group chairman Shi Lin said: "We're very pleased to host the Volvo China Open again. To host such a world-class event will help improve the club's management.
"Entrusted by the organizing committee, we will spare no effort in delivering a premium event.
"I'm confident Topwin will be in great shape and will impress not only the players but also our guests and spectators."
Debuting in 1995, the Volvo China Open is the oldest tournament in China and is responsible for triggering much of the nation's interest in developing the sport.
"For 23 years, the Volvo China Open has accompanied several generations of Chinese golfers to the world stage," said Wang Liwei, vice-president of the China Golf Association.
"Wu Ashun and Li Haotong, who represented China in the Rio Olympics and came very close to victory by tying for second place in the World Cup of Golf, have both won the Volvo China Open - Wu in 2015 and Li in 2016.
"I look forward to seeing more Chinese players getting good results in next year's championship and also more making it through to the final two days."
Volvo's new golf strategy for China revolves around three main events: the Volvo China Open, Volvo China Junior Match Play Championship and the Volvo World Golf Challenge.
The aim is to provide world-class competitive arenas for golfers at all levels, and develop the sport across professional, junior and amateur platforms.
Volvo is sponsoring four China Open qualifying events. International qualifying will be Feb 23-24 at Hong Kong GC, followed by domestic qualifiers on March 14-15 at Chengdu BRC Grand Hill International GC, March 28-29 at Shanghai Tianma CC and April 11-12 at Tianjin Binhai Forest GC.
Those events offer a chance for hundreds of hopefuls to win one of the 12 coveted spots available in the Volvo China Open. In addition, the Volvo World Golf Challenge - a global amateur event - will tee off at Topwin on May 2-3.
The Volvo China Open is organized by the China Golf Association with Volvo Event Management as promoter, and is co-sanctioned by the European Tour and OneAsia.
China represents Volvo's second largest automobile market. The 23rd Volvo China Open will be the company's 86th tournament on the European Tour, with a purse of 20 million yuan.
yangxinwei@chinadaily.com.cn
Most Popular
Highlights
What's Hot