O'Sullivan says Chinese cash could revamp snooker's image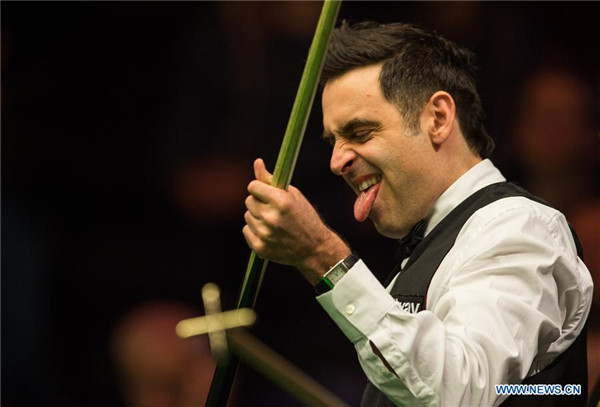 Ronnie O'Sullivan of England reacts during the third round match with Michael Georgiou of Cyprus at the Snooker UK Championship in York, Britain on Nov 28, 2016. Ronnie O'Sullivan won 6-1. [Photo/Xinhua]  
Snooker legend Ronnie O'Sullivan believes the sport needs a jolt - and the solution could be resolved by an infusion of Chinese cash.
The mercurial 40-year-old quintuple world champion - whose comments are never dull but sometimes spark disciplinary action - said the sport's staid image pales in comparison to others whose packaging is slick and contemporary.
O'Sullivan - who was speaking on the sidelines of the UK Championship tournament where he has reached the last 16 - made the remarks after no snooker player made the list of nominees for BBC Sports Personality of the Year.
"Maybe if it went to China and you found some billionaires out there who would put the sport on and have millions in prize money, you could start looking at snooker as a core sport again," said O'Sullivan, fondly known as 'Rocket Ronnie'.
"But you're competing with Formula One, tennis, golf and the Olympics.
"They give it (snooker) like 10 seconds on BBC Sports Personality - it's a complete insult to the sport but it's what they think of it and what they believe it warrants, and that says it all, really."
O'Sullivan, whose charisma and unpredictability make him easily the most watchable and bankable of the present generation of snooker players, said the game was selling itself too cheaply.
"Snooker is becoming a nothing-type sport - it's kind of like a car boot sale, but with the other sports it's like shopping at Harrods," he said.
"They're putting so much of it out there because it's cheap TV. I think snooker has lost that respect amongst other sports."
Most Popular
Highlights
What's Hot