'I Am Bolt' movie offers glimpse into sprinter's racing life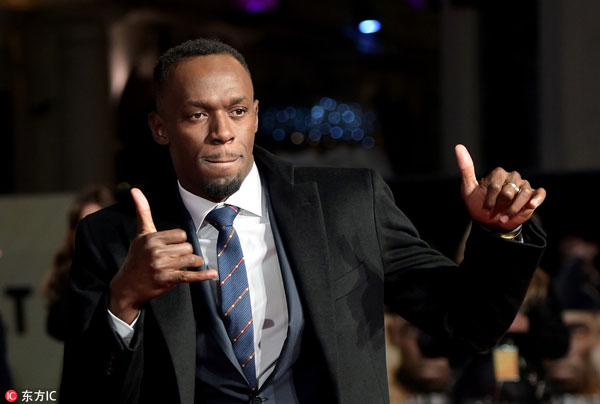 Usain Bolt attends the World Premiere of "I Am Bolt" at the Odeon Leicester Square, London, UK, Nov 28, 2016. [Photo/IC]
LONDON - Jamaican sprinter Usain Bolt swaps the race track for the red carpet on Monday for the premiere of a new film looking at his record-breaking career.
"I Am Bolt" follows the nine-times Olympic gold medallist in his gruelling training and competing as well as relaxing at home, giving fans a glimpse into the life of the man nicknamed "Lightning Bolt".
"Most people's concept of me is that 'Oh Usain, it's easy for Usain, there's no stress' ... but it's not," Bolt told a news conference in London on Monday ahead of the film's world premiere in the British capital.
"I wanted to make people see what I went through to get to where I'm at today."
The documentary, which includes location footage from the Beijing World Championships, Rio Olympics and London Olympics, also has video from Bolt's youth and interviews with family members, friends and coach.
Bolt, who became the first person to win three consecutive 100 and 200 metres Olympic golds in Rio de Janeiro last summer and is a world record holder in the two disciplines, can also be seen talking about his nerves and fears ahead of a race.
"I could feel all emotions throughout everything, like I was reliving my life again when I was watching that," he said of the film.
"That's what I wanted people to see, the struggles, the pain, the triumph, the stress that I've been through and then have more insight also on my life."
The 30-year-old has said he plans to retire from the sport after the August world championships in London. He told reporters he wanted to do more charity work afterwards.
Most Popular
Highlights
What's Hot