Arrieta's arm crushes Cleveland
Cubs knot World Series as ace starter shuts down Indians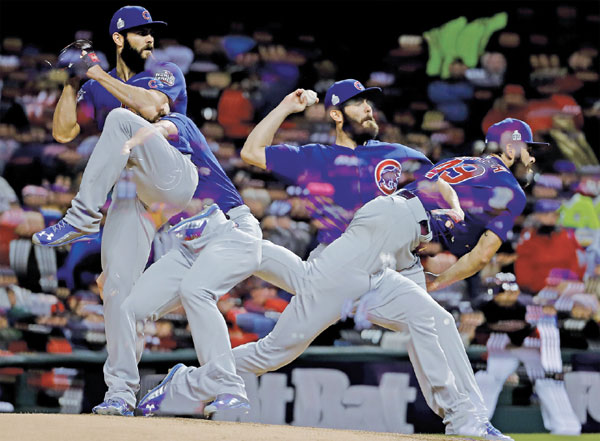 In this multiple exposure photo, Chicago Cubs starter Jake Arrieta throws against the Cleveland Indians during the fifth inning of Wednesday's Game 2 of the World Series in Cleveland. The Cubs won 51 to even the bestofseven Fall Classic at 11. Matt Slocum / Ap
Jake Arrieta made a brief run at a no-hitter on Wednesday night and ended another 71-year pause between celebrations for the Chicago Cubs and their faithful fans.
Not only are they back in the World Series, they've won there again.
One more drought quenched, one more to go.
Arrieta carried a no-hit bid into the sixth inning and Kyle Schwarber drove in two runs as the Cubs rebounded from a 6-0 loss in Game 1 to even the Series with their first Fall Classic win in 71 years, a 5-1 rout of the Cleveland Indians in Game 2.
Arrieta, who pitched a no-hitter earlier this season, flirted with another one before the Indians touched him for two hits and a run. But the right-hander helped give the Cubs just what they needed - a split at Progressive Field - before the Series shifts to Wrigley Field for the next three games, starting on Friday.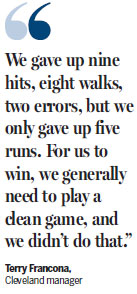 "It's always crazy good," Cubs manager Joe Maddon said when asked how he expected things to be for Game 3.
"But I'd have to imagine a little bit more than that, especially coming back at 1-1. I think the folks will be jacked up about the win tonight."
The Cubs hadn't won in the Series since beating Detroit 8-7 in 1945 to force a decisive Game 7, which they lost.
Chicago hasn't won the Series since 1908, and after Wednesday's win, hundreds of Cubs fans gathered in the pouring rain in the rows behind their first-base dugout, where they danced and sang.
A few waved the familiar white and blue "W" flags.
They hope to do it three more times.
The big-swinging Schwarber, who made it back for Chicago's long-awaited Series return after missing six months with an injured left knee, hit an RBI single in the third off Cleveland's Trevor Bauer and had another in the Cubs' three-run fifth - highlighted by Ben Zobrist's run-scoring triple.
In Game 1, Schwarber doubled and walked.
"No, it's not that easy, first off. Baseball's a crazy game," he said.
Even the presence of star LeBron James and the NBA champion Cavaliers, sporting their new rings, couldn't stop the Indians from losing for the first time in six home games this postseason.
And Cleveland manager Terry Francona's magical touch in October finally fizzled as he dropped to 9-1 in Series games.
"We gave up nine hits, eight walks, two errors, but we only gave up five runs," Francona said. "For us to win, we generally need to play a clean game, and we didn't do that."
With rain in the forecast, Major League Baseball moved the first pitch up an hour in hopes of avoiding delays or a postponement.
It turned out to be a good call as the game went on without a hitch and ended after more than four hours as light rain was beginning to fall.
Arrieta and the Cubs provided the only storm.
The bearded 30-year-old coasted through five innings without allowing a hit, and his no-hit bid was the longest in a Series game since Jerry Koosman tossed six no-hit innings for the New York Mets in 1969.
For a brief period, Arrieta looked as if he might challenge Don Larsen's 1956 gem for the New York Yankees - a perfect game - before Indians second baseman Jason Kipnis, a die-hard Cubs fan as a kid, doubled with one out in the sixth.
Arrieta has two career no-hitters, including the only one in the majors this year.
"I knew I hadn't given up a hit all the way to the sixth," Arrieta said. "That's really not the focus in a game like this. Whether they get a hit or not really doesn't affect the way you continue to approach that lineup, especially with a five-run lead."
Kipnis was impressed.
"We didn't get much going," he said. "You have to tip your hat to Arrieta. He was awesome."
Cubs lefty Mike Montgomery replaced Arrieta and worked two scoreless innings before Aroldis Chapman came in and unleashed his 103 mph heat while getting the last four outs in his Series debut.
The teams will have an off day before the series resumes with Game 3 at Wrigley, which will host its first Series game since Oct 6, 1945.
Josh Tomlin will start for the Indians, who will lose the DH in the NL park, against Kyle Hendricks.
Schwarber might also wind up on the bench after two games at DH. Maddon loves the way he's swinging but isn't sure he's ready to play in the outfield.
"That's something I'm waiting to hear from our medical guys," the manager said.
Most Popular
Highlights
What's Hot