Chinese sailor thrown into water during trans-Pacific sailing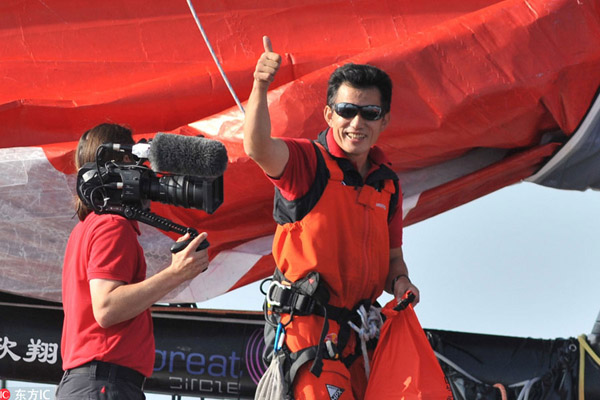 Guo Chuan returns to Qingdao from a 15-day voyage on Sept 27, 2015. [Photo/IC]
BEIJING - Chinese sailor Guo Chuan went missing after being thrown into the water by high winds during his trans-Pacific sailing, Guo's support team said on Thursday.
The team said he was suspected to fall in the water between 15:15 and 15:30 Wednesday Beijing time.
The 51-year-old Chinese sailor set sail of his trimaran Qingdao China from San Francisco's iconic Golden Gate Bridge on Oct 18 for Shanghai hoping to set a new sailing world record for solo crossing.
The US Coast Guard said earlier it has suspended its search for him after a crew did not find him aboard his boat off the Hawaii islands.
In a statement, the Coast Guard says a crew from the USS Makin Island went aboard Guo's trimaran about 620 miles northwest of Oahu and only found Guo's life jacket.
The Coast Guard used a helicopter to drop rescuers on Guo's trim ran floating on the Pacific Ocean.
Guo was last heard just after 15:00 Tuesday Beijing time when his boat sailed 900 nautical miles off the west of Hawaii. All attempts to contact the sailor had failed.
Wednesday Beijing time, Guo's vessel was found about 620 miles northwest of Hawaii's main island of Oahu. The airborne search team did not see Guo on deck, but the main lateen sail of the 97-foot trimaran was broken off in the water.
The voyage was planned to be about 7,000 nautical miles long and take about 20 days.
Tuesday afternoon Beijing time, one week after departure, Guo spoke on the phone with his support team telling them that all was good and he expected to arrive in Shanghai on Nov 5 or 6.
Shortly after the call, the GPS on Guo's boat reported a sudden loss of speed, Guo's support team reported.
"After that, we haven't gotten through to or heard from Guo via phone calls or internet messages," said a team member.
24 hours after the team lost contact with Guo, Maritime Rescue Coordination Center China, in cooperation with the Chinese consulate in Los Angeles, contacted the Coast Guard in Hawaii for help with search and rescue.
Guo is a professional sailor in China, and was reported to be in good health and confident about the voyage. He holds two world records for sailing — a solo non-stop circumnavigation world record set in 2013 and an Arctic Ocean Northeast Passage non-stop sailing world record set in 2015.
Discussing the non-stop trans-Pacific crossing with reporters he said, "Most of the pressure will come from the weather."
"When the wind is strong, you may make some small mistakes and then they may become larger and larger. So that's one of the things I need to be really careful about," Guo said prior to departure.
Were he to arrive in Shanghai, Guo would be the first ever to finish a solo non-stop trans-Pacific sail from San Francisco to Shanghai.
Most Popular
Highlights
What's Hot