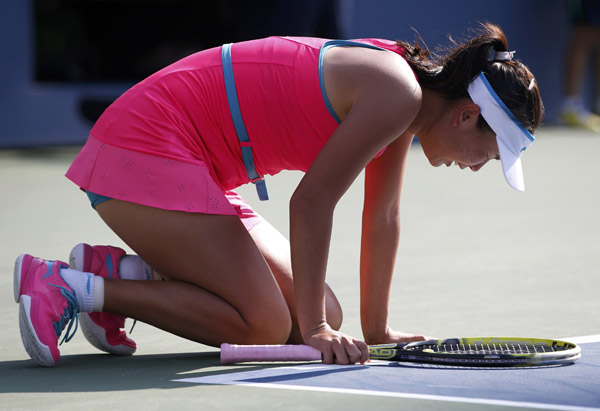 Peng Shuai of China drops to the court in pain during the semi-final match against Caroline Wozniacki of Denmark at the 2014 US Open tennis tournament in New York, September 5, 2014. [Photo/Agencies]
NEW YORK - Caroline Wozniacki advanced to the U.S. Open final in dramatic fashion on Friday when China's Peng Shuai was forced to retire due to heat illness, putting the Dane one win away from winning an elusive grand slam title.
Wozniacki was leading 7-6(1) 4-3 and closing in on victory when Peng suddenly grabbed her thighs and stumbled to the back wall of Arthur Ashe Stadium court with what appeared to be severe cramping.
In obvious distress, the 28-year-old doubles specialist was eventually helped off the court.
A valiant Peng, playing in her first career grand slam singles semi-final, refused to throw in the towel, returning 11 minutes later determined to continue.
But after six points Peng was left curled up in agony on the baseline, her mouth open in agony before officials called the match.
A tearful Peng, who was consoled by her opponent, was then lifted into a wheelchair and taken from the court to a standing ovation.
"It was very difficult (to Peng)," said Wozniacki. "You're out here and you want to battle, and you want to finish it off.
"I just feel sorry for Peng because she played really well out there. It was really hot here on court.
"It's just unfortunate that she fell ill and I hope that she will be ok."
On another hot and humid day at the U.S. National Tennis Center, the packed stadium had been enjoying a riveting baseline battle with Peng, one of the top servers at Flushing Meadows, going against Wozniacki, one of the game's top returners.
But the mood suddenly turned from excitement to worry as Peng, without warning was overcome by the heat.
At first Peng appeared to be wracked with cramps, stretching her legs as she stumbled backwards. Soon she was bent over unable to stand.
As trainers came to her aid the Chinese player had to be helped to her feet with one official under each shoulder offering support.
When Peng was taken from the court, there was confusion over whether the match had been stopped before an official medical timeout was announced by the chair umpire.
Peng, who had not dropped a set on her way to the semi-finals, had looked capable of taking one more step to the final as she got the match off to a determined start.
Twice Peng took the initiative in the opening set with a break but a relentless Wozniacki broke right back on both occasions, the second time at 6-5, to force a tiebreak.
Wozniacki dominated the tiebreak, winning 7-1, to take the first set of the tournament from her unseeded opponent.
Peng quickly regrouped and broke Wozniacki at the first opportunity to take control of the second set but again the Dane had an immediate response breaking right back.
Shortly afterwards Peng began to falter as Wozniacki broke again for a 3-2 lead and Peng continued on a downward spiral.