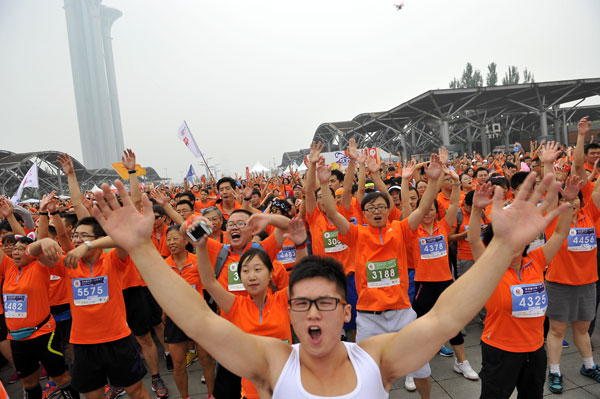 Participants take part in warm-up exercises before the start at Beijing Olympic Forest Park, Aug 30, 2014.[Photo provided to chinadaily.com.cn]
A smoggy morning greeted about 3,000 athletes at Beijing's Olympic Forest Park on Saturday, the first leg of the 2014 Happy 10k Run.
The event, comprising 10 kilometer and 3 km runs, staged by international sports marketing company Infront Sports & Media, is aimed at promoting the sport among amateurs.
Running with friends and families, many participants formed small groups to take part together.

Zheng Wen, president of Infront China, said that as growing numbers are discovering, inter-person communication during exercise is more pleasing than communication in the cyber world, and it is hoped the event can prompt people to go out and enjoy the fun of outdoor exercise.
The second leg will be in Shanghai next month, followed by further events in Changzhou, Shenzhen and Huizhou before the series ends in December.