Federer and Djokovic now front-runners for the title at last major of year
Reigning champion Rafael Nadal pulled out of the US Open because of an injury for the second time in three years on Monday, leaving Novak Djokovic and Roger Federer as the men to beat at the year's final Grand Slam tournament.
Nadal announced his withdrawal, blamed on a bad right wrist, one week before play begins at Flushing Meadows.
"I am sure you understand that it is a very tough moment for me since it is a tournament I love and where I have great memories from fans, the night matches, so many things," a posting on Nadal's Facebook page read. "Not much more I can do right now, other than accept the situation and, as always in my case, work hard in order to be able to compete at the highest level once I am back."
The second-ranked Nadal plays left-handed, but he uses a two-handed backhand.
The 14-time major champion was hurt on July 29 while practicing on his home island of Mallorca ahead of the North American hard-court circuit. The next day, Nadal announced he needed to wear a cast on his wrist for two to three weeks and would be sitting out tournaments in Toronto and Cincinnati.
The 28-year-old Spaniard also said he expected to return for the US Open.
Instead, he is the fourth man in the Open era, which began in 1968, to decline to try to defend his US Open title. The others were Ken Rosewall in 1971, Pete Sampras in 2003 and Juan Martin del Potro in 2010. Del Potro also is out of this year's Open after wrist surgery in March.
Nadal is 44-8 with four titles in 2014, including his record ninth French Open trophy in June. He has not competed since losing in the fourth round of Wimbledon on July 1.
With Nadal sidelined, five-time US Open champion Federer joins Djokovic as a favorite in New York - even if there are questions marks about them.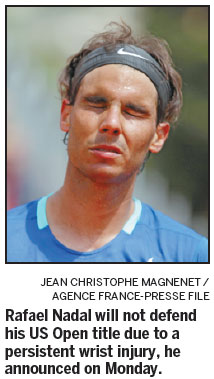 Federer turned 33 this month and it has been more than two years since he won one of his record 17 Grand Slam titles. But he is coming off a runner-up finish at Wimbledon last month and a hard-court title at the Cincinnati Masters on Sunday.
After beating David Ferrer 6-3, 1-6, 6-2 on Sunday, Federer declared: "My game's exactly where I want it to be."
Djokovic won Wimbledon to take the No 1 ranking from Nadal, but had a rough time on hard courts, losing his second match in both Toronto and Cincinnati.
Still, Djokovic will be seeded No 1 at the US Open, and the third-ranked Federer is expected to rise one seeding spot to No 2, so they could meet only in the final. The draw is on Thursday.
Federer reached six consecutive finals at Flushing Meadows from 2004-09, but has not been that far since, losing in the semifinals in 2010 and 2011, the quarterfinals in 2012 and the fourth round a year ago, when he was dealing with a bothersome back.
Nadal won his second US Open championship in 2013, part of a run of reaching the final in each of his past three appearances. He beat Djokovic to win the titles in 2010 and last year, and lost to Djokovic in 2011.
The one question about Nadal over the years has been his durability, on account of a hard-charging, play-each-point-as-if-it's-your-last style.
He did not enter the US Open in 2012, part of an extended absence because of a problem with his left knee.
And this will be the second time Nadal has chosen to not attempt a defense of a major title: A year after winning Wimbledon in 2008, he missed that tournament with knee tendinitis.

(China Daily 08/20/2014 page24)