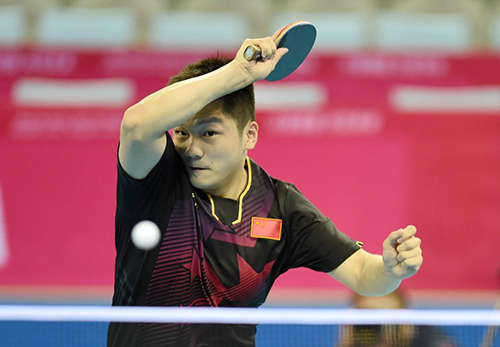 Fan Zhendong competes in the men's table tennis singles quarterfinals against Hung Ka Tak of Hong Kong, Aug 19, 2014. [Photo/nanjing2014.org]
NANJING, China - For a lot of athletes the 2nd Youth Olympic Games in Nanjing, are a first taste on what it feels like to compete at international level. For Chinese table tennis star Fan Zhendong the Youth Olympics will be more likely a stepping-stone.
Currently ranked number three in the world, Fan already made the history books when he became the youngest ever ITTF World Champion at age 16. Now Fan has an even bigger dream.
"Nobody (in table tennis) has ever become the Youth Olympic and Olympic champion, so I want to achieve this. Gold in Nanjing and gold in Rio is my goal!" said Fan.
Fan won his first four matches in Nanjing with clear 3-1, 3-0, 4-1 and 3-0 wins, on Tuesday he will face Hung Ka Tak of Hong Kong, China, in a thrilling quarterfinal match.
Despite his clear wins it was not an easy road for Fan. After losing his first set in the first game against Brian Afanador of Puerto Rico he came back strong and won the game, but his kick-off nevertheless showed that Fan is no unbeatable super hero.
"In the first game, I was nervous. I wanted my performance to be perfect and I made some mistakes, as a result, I lost the first set," he said about the game against Afanador.
Fan is three more matches away from making the first part of his dream come true. The quarterfinal and semifinal are both taking place on Tuesday in Wutaishan Sports Gymnasium, the final will follow on Wednesday.