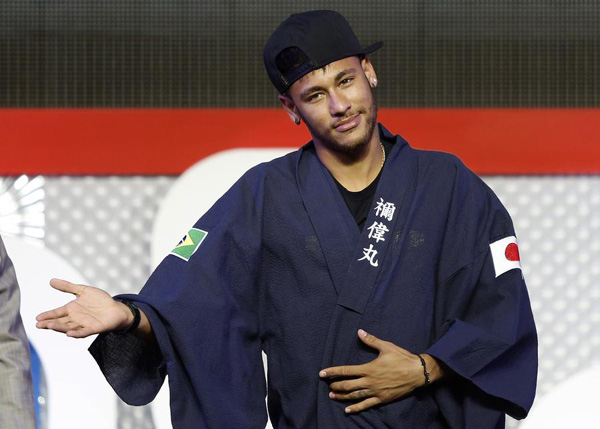 Brazilian soccer player and Barcelona forward Neymar wears a "Yukata", a casual summer Kimono, after receiving it as a souvenir from the organizer during a fan event in Tokyo, July 31, 2014. [Photo/IC]
TOKYO - Brazil and Barcelona striker Neymar says he is almost back to full fitness after the serious back injury he sustained at the World Cup.
The 22-year-old Neymar is on promotional trip to Tokyo, where he will film a commercial for a Japanese mattress company. About 700 fans greeted him at Tokyo's Haneda Airport on Thursday.
"It's all good. My back is improving. It's almost 100 percent," Neymar said. "I'm looking forward to joining my (Barcelona) teammates and helping them win the title."
Neymar's first World Cup ended in disappointment when he was carried off the field on a stretcher with a fractured vertebra during Brazil's quarterfinal win over Colombia.
Before his injury, Neymar had scored four goals in five games and was considered one of the standout players of the tournament. Half of Brazil's goals until then were scored by him.
Barcelona's season starts on Aug 24. The club has said Neymar's recovery was progressing "very well."
Neymar has a busy schedule in Japan. In addition to shooting a commercial, he made several TV appearances and fielded questions about technique from young Japanese players.