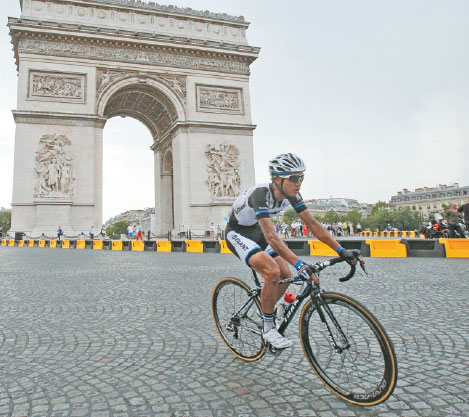 Ji Cheng passes the Arc de Triomphe in Paris during the final stage of the Tour de France on Sunday. He became the first Chinese rider to compete in the famous race. Christophe Ena / Associated Press
Ji looking forward to break after making history in this year's race
Ji Cheng said he wants to take a break from cycling after becoming the first Chinese rider to compete in the Tour de France.
Ji was a visible member of the peloton over the past three weeks, relishing his role as the "breakaway killer" for his Giant-Shimano team.
And although the 27-year-old did not set the world alight with his performances, he did gain cult status while racing over 3,659 km.
But he has had enough for this year.
"I have no idea what I want to do now," he sai on Sunday.
"I will try to rest and relax because I got married 20 days before I came back to Europe for a training camp and then racing, so it's been eight months since I've been home.
"That's really long. I will try to relax and not think any more about cycling."
It hasn't been easy for Ji, who was expected to ride at the front of the peloton day after day to control break-away groups and ensure his Giant team would be able to reel them in later so sprinter Marcel Kittel could finish off his work.
Kittel won four stages while another German sprinter, John Degenkolb, finished second in two others where the lumpy run-ins were not suited to Kittel's raw straight-line power.
But Ji also had his own challenges to overcome after sustaining a knee injury.
"The hardest moments were just the first week and the last week," he said.
"The first week had more sprint stages and we had more chances for victories so I was working hard to control the group and working hard on the front. That was a hard week," he said.
"And the last week because I injured my left knee. I wasn't looking forward to the mountains because of my injury, which was so painful. But the second week was nice for me, I had more time to enjoy the race."
That is a curious way to describe an activity that lasted more than 90 hours. And, in Ji's case, he rode more than six hours longer than winner Vincenzo Nibali, managing the biggest gap between first and last since 1954.
Ji, who was 164th, also finished more than 50 minutes behind the second-last finisher and crashed on the final stage on the Champs Elysees, suffering the ignominy of being lapped by the peloton as it completed eight circuits of the famous avenue.
But every day he managed to get inside the time limit.
This was not the first Grand Tour Ji has completed.
He finished 175th and last at the 2012 Vuelta a Espana. Illness prevented him from completing last year's Giro d'Italia.
While the native of Harbin in northeast of China might be the Tour's lanterne rouge (red lantern - last-place finisher), he at least finished - which is more than 34 other starters managed, among them defending champion Chris Froome, Alberto Contador and Mark Cavendish, who all crashed out.
"In cycling sometimes dangerous things can happen like a crash, or you can get sick or have a fever," Ji said.
"It's normal. Last year at the Giro the same thing happened to me; I got very sick before stage five and couldn't start it.
"It's really sad but it's like this. Maybe next year I'll have this situation.
"I was pretty lucky really, I didn't crash or get sick or anything."
Having made history as the first Chinese rider to compete in the Tour, Ji said he hopes to be a pioneer for his countrymen, but said it will take more than just him to change things.
"I hope so ... but a cycling project in the country cannot be one man like me," he said.
"Maybe I can show them something, but I cannot change anything.
"I hope they can see it's possible to build a team and train riders to be top professionals."