Italian powerhouse only six stages away from winning first Tour de France crown
Vincenzo Nibali says he is a more mature rider than he was the past couple of years and insists he is well placed to secure a first Tour de France success.
The Italian leads Spaniard Alejandro Valverde by 4 min, 37 sec with six stages left, including three in the Pyrenees, but as he has so far gained time on his rivals on every uphill finish, he looks almost certain to keep the yellow jersey all the way to the Champs Elysees.
But he has been burnt before and is determined not to come up short again.
Two years ago, Nibali was challenging British pair Bradley Wiggins and Chris Froome for the Tour victory but he lost so much time in the time trials that he could not compete, finishing third overall.
He finished 6:19 behind Wiggins but 5:56 of that was lost in races against the clock.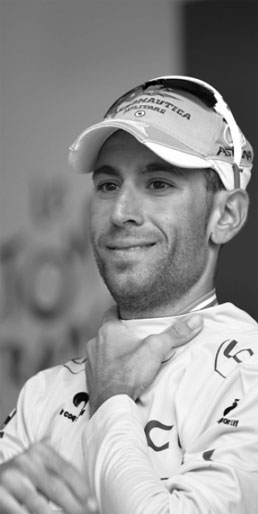 Vincenzo Nibali celebrates his overall leader yellow jersey on the podium at the end of the 222-km 15th stage of the Tour de France on Sunday between Tallard and Nimes, southern France. Eric Feferberg / Agence France-Presse
"These last few years I've learnt a lot in every big race that every second counts, you can never take anything for granted," said the Astana rider ahead of Monday's second and final rest day.
"These first two weeks have gone quite well, the team have worked really hard, I felt really good and haven't had a bad day.
"In the last three years I've worked on the time trial, particularly my position, working on the track, and we've found solutions.
"Even last year in the Giro it was important and I tried not to lose too much time because it's fundamental.
"Two years ago I lost a huge amount of time (at the Tour) in the time trial so I tried to improve that."
Last year he led the Vuelta a Espana for 14 stages but was overhauled two stages before the end by American Chris Horner.
Although the Sicilian says that was partly because he was tired at the end of a long season in which he had won the Giro d'Italia.
"I learnt that you have to try to manage the race in a better way, also with the team because it's very important," said the 29-year-old.
"But the Vuelta came in a different period of the season. I had the Giro in my legs after a whole season at a high level. I didn't feel as strong as I did at the Giro.
"Here I come into it with better preparation. I've been improving steadily throughout the season with the aim to reach my peak at the Tour de France, and that's the way it's been."
Nibali echoed the thoughts of many when saying he was happy Monday's rest day had arrived after what has so far been a brutal Tour with a multitude of problems to overcome.
Not everyone managed that with all three former winners on the original start line-Froome, Alberto Contador and Andy Schleck-long crashed out, along with sprinter Mark Cavendish.
It has also seen the hopes of Froome's replacement as Team Sky leader, Australian Richie Porte, go up in smoke as he struggled in searing temperatures during two days in the Alps.
But before that there was wind, rain, cobbles and overzealous fans standing in the road on the first three stages in England.
Sunday's stage brought back the wind and rain, although the peloton avoided the worst of the storms spreading across western France from the Atlantic Ocean.
Some have suggested this has been a Tour of trials and tribulations, but Nibali doesn't agree.
"The Tour has always been like this more or less, I don't remember any calm or tranquil stages before," he said.
Another relishing the opportunity to take stock is green jersey wearer Peter Sagan.
With a lead of 176 points in that competition ahead of France's Brian Coquard, he is almost certain to win it for the third year in a row, as long as he makes it to Paris.
"I'm happy that the rest day has arrived," said the 24-year-old Slovak Cannondale rider.
(China Daily 07/22/2014 page23)