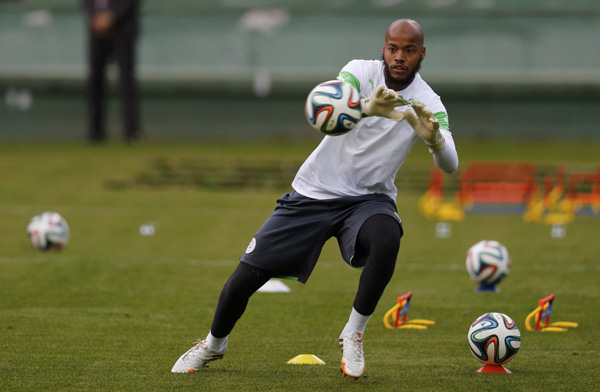 Algeria's national soccer team goalkeeper Rais M'bolhi catches a ball during a training session ahead of their match against Russia at the Major Antonio Couto Pereira stadium in Curitiba June 25, 2014.   [Photo/Agencies]
PORTO ALEGRE, Brazil - A bullet from Bastian Schweinsteiger.
A prodigious effort from Philipp Lahm.
An on-target header from Thomas Mueller.
Algeria's unsung goalkeeper stopped everything that came his way for 91 minutes. And even when three-time champion Germany finally scored in extra time and went on to win 2-1 to reach the World Cup quarterfinals, Rais M'Bolhi was not at fault.
That was why Rais - which means leader in Arabic _ was voted man of the match on Monday.
"We were ready," said Rais, who plays for Bulgarian club CSKA Sofia. "No one believed we would reach this stage."
It was the first time Algeria had reached the knockout phase after three previous appearances at the World Cup.
"We've entered the history of Algerian football," Rais said.
Rais, it should be remembered, had shined before at the World Cup.
Four years ago in South Africa, he kept a clean sheet during a 0-0 draw with England and conceded only one goal in two matches played - a stoppage-time score from Landon Donovan in a 1-1 draw with the United States.
Against Germany, Rais kept Algeria alive with save after save until the Germans finally broke through the northern African squad's weary defenders.
Fourteen minutes in, Rais stopped a blistering long-range effort from Schweinsteiger. In the 55th, Lahm unleashed a hard shot that an outstretched Rais pushed wide with his fingertips.
And in the 80th, Rais blocked a close-range header from Mueller, who had scored nine goals in his opening nine World Cup matches.
In all, Rais faced 22 shots, 16 of them on target.
"I'm not quite sure what we lacked," Rais said. "Eventually we conceded two goals. I don't know. We felt there was something to be done even though we were playing a great team like Germany."