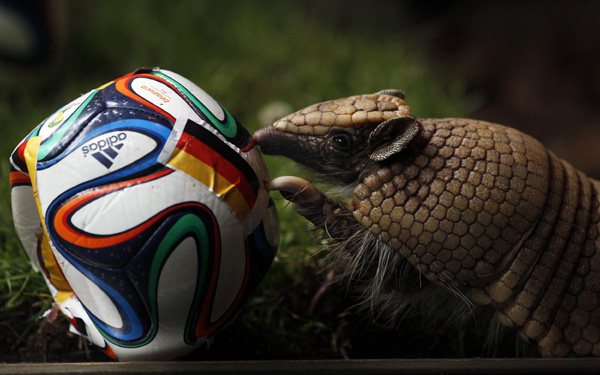 The armadillo called Norman, Germany's World Cup oracle, approaches the soccer ball representing Germany as he makes his prediction for the team's opening World Cup match against Portugal on June 16, at the zoo in the western city of Muenster June 13, 2014.  [Photo/Agencies]
RIO DE JANEIRO - FIFA could not reach a financial agreement with a wildlife conservation group trying to save an endangered species of armadillo chosen as the World Cup mascot, the football governing body's head of corporate and social responsibility said Monday.
"Unfortunately, despite our intention ... there was no interest from the other side in collaborating with us," Federico Addiechi said, pinning the blame on the Caatinga Association.
Addiechi said FIFA received "hundreds of requests" from non-government organizations like the Caatinga group and it was impossible to meet all of them.
"Despite being a wealthy organization and the World Cup generating many resources - financial resources - the resources are not unlimited," Addiechi said. "We have to make decisions in order how to best invest our resources."
The Caatinga Association and the US-based Nature Conservancy were instrumental in getting the armadillo chosen as the World Cup mascot, which was named "Fuleco" - a combination of the Portuguese words for football and ecology.
Caatinga Association director Rodrigo Castro said he turned down a FIFA offer of $135,000, about one-tenth of what he said was needed over 10 years to get the armadillo off endangered species lists.
"We came up with several concrete proposals for FIFA, but we didn't receive a single positive response about the possibility of receiving any support for the conservation and protection of the species," Castro said.
Castro called FIFA's offer "tepid and very small."
"We know that the armadillo is the symbol of the World Cup," Castro added. "It helped promote the event across the world. All this visibility, all this exploitation of the image should have a concrete return for the species. Until now, this hasn't happened."
The three-banded armadillo is in danger of extinction, largely because of deforestation and hunting in its habitat in northeastern Brazil. Its meat is considered a delicacy by some in that region. It also rolls up into a small ball when frightened, making it resemble a tan football.
FIFA generates about $5 billion in revenue in a four-year World Cup cycle, and has cash reserves of more than $1 billion.
Paul Byrne contributed to this report from Fortaleza, Brazil.