Hampered by leg injury, Portgual superstar never hit his vaunted stride
Coming off his most successful season at club level, this was supposed to be the World Cup where Cristiano Ronaldo underlined his new-found superiority over rival Lionel Messi and his status as the game's best player.
It hasn't quite worked out that way.
Hindered not just by a left leg injury but also the poor quality of the Portugal teammates playing alongside him, Ronaldo exits the World Cup with one goal and some below-par performances - by his standards - from three group matches.
His lone goal was the winner in a 2-1 victory over Ghana on Thursday that failed to stop Portugal from slipping out of the tournament.
Meanwhile, Messi has led Argentina into the last 16 with a tournament-leading four goals (tied with two others). After losing his FIFA Player of the Year crown to Ronaldo, Messi is set to have the last laugh in Brazil.
Ronaldo cut a thoroughly frustrated figure during and after the Ghana match.
Throwing up his arms, kicking at the air and often standing with his hands on his hips, the Real Madrid superstar didn't hide his unhappiness with his teammates.
But they weren't solely to blame - in the white of Madrid, Ronaldo has been slotting away the kind of gilt-edged chances that fell to him at Brasilia's Estadio Nacional.
There was a header from six yards out in the 19th minute that, although well-saved by goalkeeper Fatawu Dauda, should have been dispatched.
Then came two more clear openings for Ronaldo in second-half injury time, one he bundled over the bar and the other he shot straight at Dauda in a one-on-one chance.
"We created many opportunities but we could not finish them," Ronaldo said.
After scoring what proved to be the winning goal, Ronaldo simply turned and trotted back to the halfway line. Rarely has a winner been celebrated with such little joy.
At the final whistle, Ronaldo - with his head down - made a hasty retreat toward the tunnel, only to run into a number of Ghana players who shook hands and embraced the Portugal captain.
Accepting his man of the match award, Ronaldo - with strapping around his right knee and moving gingerly - barely raised a smile.
Except for the World Cup, Ronaldo has had a career-best season. His stats tell it all.
He was the Champions League's top scorer for the second straight season, with his 17 goals setting a new record. His successfully converted penalty in the final against Atletico Madrid was his 51st for Madrid in all competitions. In La Liga, he scored 31 times, making him Europe's top league scorer, alongside Liverpool's Luis Suarez.
At the international level, he scored all four of Portugal's goals in the aggregate playoff win over Sweden to secure a place at the World Cup, including a sizzling hat-trick in the second leg.
To top it all off, he became world player of year in January, regaining the accolade he won for the first time in 2008.
So why the dip in standards at the World Cup?
Firstly, and possibly most crucially, he arrived in Brazil hampered by tendinitis and a muscle injury in his left leg. He was seen needing ice packs on his knee during training sessions and concerns lingered about his level of fitness after a largely ineffective performance against Germany in a 4-0 loss.
Fans had to wait until the fifth minute of injury time in Portugal's second match, against the US, for Ronaldo's first noteworthy contribution at the World Cup. A pinpoint, curling cross allowed Silvestre Varela to head in the equalizer for a 2-2 draw that kept Portugal in the tournament.
It proved to be a false dawn.
Ronaldo acknowledged after that match the limitations of his national side.
"We're probably just an average team," Ronaldo said. "I'd be lying if I said we were a top team."
According to FIFA, Portugal is currently the fourth best squad in the world. But take Ronaldo out and the Portuguese would drop significantly down those rankings.
The lack of a potent striker to complement Ronaldo has been Portugal's problem for a decade and there doesn't appear to be a solution.
So, Ronaldo must continue shouldering the burden of his country's national team. But he won't be doing it in Brazil any longer.
Back home in Madrid, he'll simply be watching as Messi - his nemesis - looks to guide Argentina to World Cup glory and underscore his name in soccer's pantheon.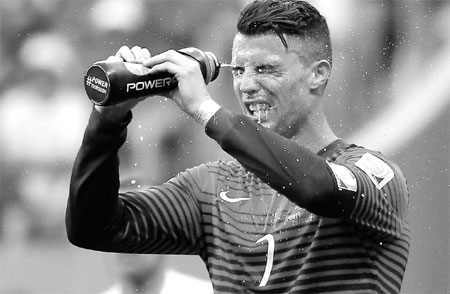 Portugal's Cristiano Ronaldo refreshes himself during the Group G match between Portugal and Ghana in Brasilia on Thursday. Ronaldo scored the winning goal in Portugal's 2-1 victory. Jorge Silva / Reuters
(China Daily 06/28/2014 page15)