'Made in Germany'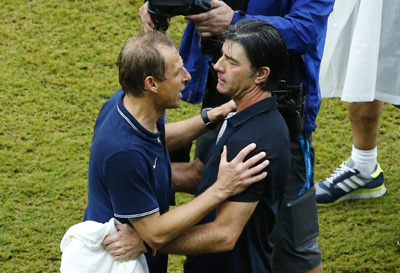 Germany has never failed to get past the group stage at the World Cup and this year is no exception. By beating the USA through a Thomas Mueller goal in the 55th minute, Joachim Loew's team has comfortably topped Group G in Brazil.
Juergen Klinsmann's team, however, can count themselves lucky to have qualified for the last 16 as runners-up as Portugal's 2-1 win against Ghana was not enough for them to finish above the Americans.
Germany-US happy for tennis marriage
The result of the game between the United States and Germany was favorable for both teams. It was also good for a famous tennis marriage.
American great Andre Agassi tweeted a smiling photo of himself and wife Steffi Graf, the German legend, in front of a TV showing the end of the match.
"HAPPY HOME !!!" he wrote.
Uruguayans fight for banned Suarez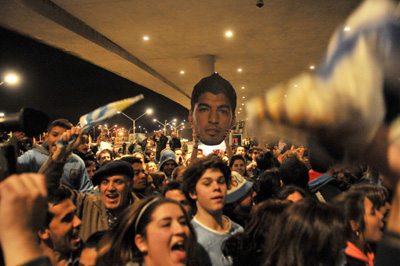 Several hundred Uruguayans gathered at a Montevideo airfield Thursday night waiting on the expected return of soccer player Luis Suarez after his banning from the World Cup for biting an Italian player.
But the Uruguayan Football Federation announced that Suarez was still in Brazil. The statement on its official twitter account gave no explanation for why he had not left.
Uruguayan President Jose Mujica had been at the international airport at one point, but his office said he returned home because Suarez's flight had been delayed.
After the report of the flight delay, the crowd of about 1,000 fans was moved from the airport's terminal to an adjacent air force base to await Suarez's arrival.
3 hairstyles, 1 goal for Cristiano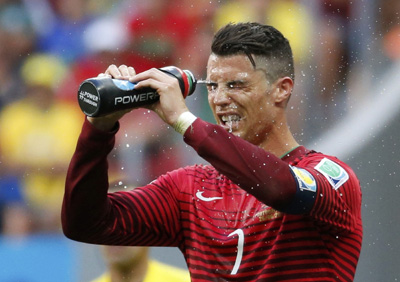 Three haircuts. one goal.
World player of the year Cristiano Ronaldo finally found a style that was good luck for scoring. He gave Portugal a 2-1 win over Ghana when he slammed home the ball with his left foot in the 80th minute.
It was his first goal of this year's tournament, but third different haircut. Thursday's edition had the sides shaved down close with a line carved along one edge of a short Mohawk.
Ronaldo won't get to show off any other on-field hairdos at this World Cup: Portugal was eliminated.
Fans having fun with Suarez teeth ad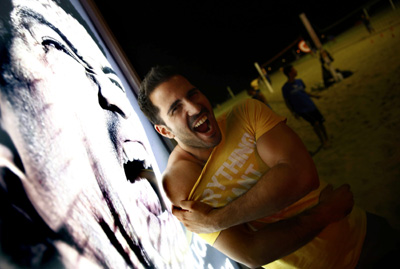 The Adidas World Cup ad campaign with star players baring their teeth was always a bit iffy when it came to the image of Luis Suarez, considering his history of biting opponents on the pitch.
The shoe company was taking down the Suarez ads after he did it again against Italy, but as of early Thursday, one such poster was still up near Copacabana beach. Amused fans took photos of themselves in front of it appearing to be chomped by the Uruguay striker.
'The dark room with the big bad wolf'
Brazil great Ronaldo believes Luis Suarez biting an opponent was terrible for football at a World Cup of "wonderful surprises."
Speaking after the Uruguay forward's nine-match, four-month ban was announced Thursday, Ronaldo said football must be used to benefit the world.
"People have to be held responsible and accountable for what they do in the game," Ronaldo said through a translator. "Those that do not follow this have to be punished."
Ronaldo added that he had never bitten an opponent.
"But I know that bites hurt," he said. "My young kids used to bite me and I used to punish them. In my home, punishment is called 'the dark room with the big bad wolf,' so I suppose for an adult four months with no football is the same."