The Detroit Tigers have agreed to pay Miguel Cabrera a baseball record $292 million over the next 10 years, according to a source with knowledge of the deal.
The source, who said the contract is subject to Cabrera passing a physical, spoke to Associated Press on Thursday night on condition of anonymity because the agreement had not been announced.
Cabrera is due $44 million over the final two years of his current eight-year contract - worth $152.3 million - which runs through 2015, and the source said the slugging first baseman will make $248 million over eight seasons in the new extension.
Depending on whether Cabrera's deal is structured as one 10-year contract or an eight-year deal starting in 2016, it will either surpass Alex Rodriguez's $275 million, 10-year contract with the New York Yankees as baseball's richest contract or Clayton Kershaw's record for average annual value of $30,714,286 - a deal the star pitcher signed with the Los Angeles Dodgers in January.
Cabrera, who turns 31 next month, has been voted AL MVP in each of the past two seasons.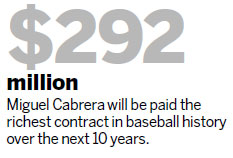 He is the first player to win the award in consecutive years since Frank Thomas did it two decades ago with the Chicago White Sox.
The Venezuelan star won the Triple Crown in 2012 - becoming the game's first player to lead either league in batting average, homers and RBIs since 1967 - and followed that up with another strong season at the plate despite struggling to stay healthy.
Cabrera led the majors with a .348 batting average last year and his 44 homers and 137 RBIs were both second to Baltimore's Chris Davis.
(China Daily 03/29/2014 page15)