Li Na becomes China's first US Open semifinalist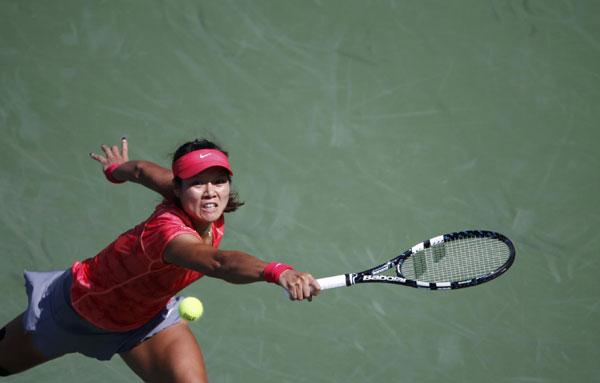 Li Na of China reaches to return to Ekaterina Makarova of Russia at the US Open tennis championships in New York, Sept 3, 2013. [Photo/Agencies]
NEW YORK - Li Na broke another barrier for Chinese tennis, becoming China's first semifinalist at the US Open by beating Russian Ekaterina Makarova 6-4 6-7(5) 6-2 on Tuesday at windy Flushing Meadows.
The 31-year-old, fifth-seeded Li pumped both fists in joy after 24th seed Makarova sailed a backhand long to end the two-hour, 20-minute match at Arthur Ashe Stadium as the crowd showered her with cheers.
"For me, this is the first time to come to the semifinals, so I'm very proud of myself," said Li, who looked about to claim victory in two sets after winning the first three points of the tiebreaker and holding a 4-2 lead.
"After I lose the second set, I was sad. But I just told myself to go point by point."
Li's win over the Russian left-hander helped restore order after Monday's shocking straight sets, fourth-round surrender by Roger Federer to Tommy Robredo.
Earlier, women's second seed Victoria Azarenka overcame Ana Ivanovic, the 13th seed, 4-6 6-3 6-4 to complete the women's quarterfinals field after their contest was postponed from Monday due to nearly five hours of rain delays.
The world number two Belarussian, US Open runner-up last year to Serena Williams, will play unseeded Daniela Hantuchova of Slovakia in the last eight.
Li will next face defending champion Serena Williams, who easily crushed Spanish 18th seed Carla Suarez Navarro 6-0, 6-0 in another quarterfinal on Tuesday.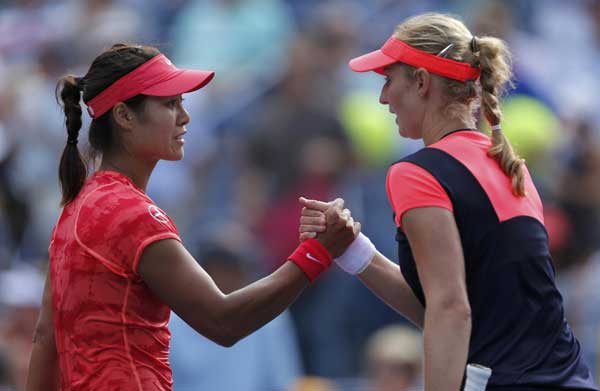 Li Na of China is congratulated by Ekaterina Makarova of Russia (R) after their match at the US Open tennis championships in New York, Sept 3, 2013. [Photo/Agencies]
<<!-- iscomment为1标示该文章可以评论 -->