Games start is grand, without grandstanding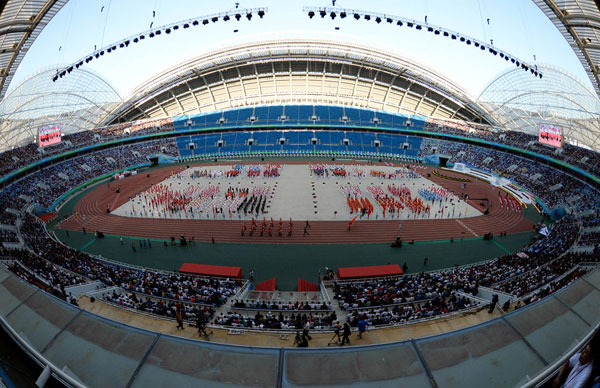 The opening ceremony of the 12th Chinese National Games is held in Shenyang, the capital of Northeast China's Liaoning province, Aug 31, 2013. [Photo/Xinhua]
China's National Games has slimmed down to a leaner form this year.
The opening ceremony and event settings of the 12th staging of the country's "mini Olympics" shows a more frugal approach to the quadrennial event.
Many of the 60,000 spectators at the Olympic Center Stadium in Liaoning province's capital Shenyang cheered for not only the Games' start but also for the more economical style as President Xi Jinping announced the Games' official launch on Saturday afternoon.
It is the first time in 26 years the opening ceremony has been staged in the daytime - a move made to save on lighting and fireworks. The opening and closing ceremonies' total budget is 9 million yuan ($1.47 million) - 10 percent of the previous Games'.
Mass calisthenics performances replaced the extravagant shows enhanced with special effects that came before 12 children lit the cauldron.
"It's quite simple yet a great and economical way to kick off the event," said bank manager Yang Wannian, who brought his son to the ceremony.
"I don't think it'll make the Games any less exciting."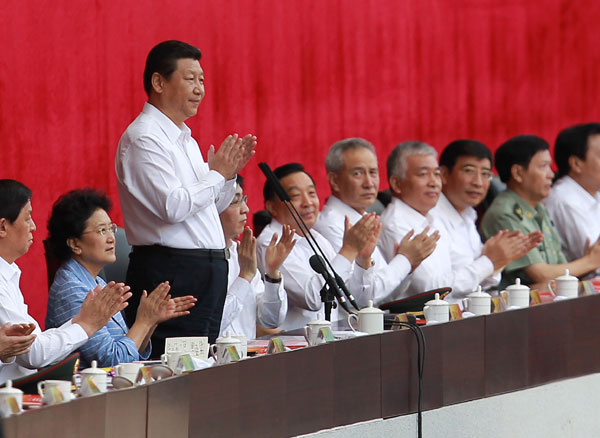 President Xi Jinping, 3rd left, who is also the general secretary of the Communist Party of China Central Committee and chairman of the Central Military Commission, declares the 12th National Games open at the Olympic Sports Center in Shenyang, Northeast China's Liaoning province, Aug 31, 2013. [Photo by Cui Meng/China Daily]
But many pundits say it is too soon to tell.
Web portal 163.com's deputy editor-in-chief Yan Qiang said: "It was good to trim the opening ceremony's budget. But the Games last several months, so we need even more ways to make them sustainable."
A new focus on the younger generation is shown by the inclusion of youth competitions in three big ball sports.
Under-18 categories have been added for soccer, basketball and volleyball to encourage local sports authorities to nurse young talent. Organizers hope this could improve the lackluster performances of the country's ball teams. The Games will also debut two new Olympic events - golf and rugby sevens.
China's deputy sports minister Xiao Tian said: "We hope the new event settings will arouse local sports systems' enthusiasm to invest more in youth cultivation and emerging sports."
About 9,770 athletes from 38 provinces, equivalent administrative regions and sports associations will compete in 31 sports. They will fight for 420 gold medals in 14 cities in Liaoning.
In an earlier meeting with outstanding sports figures, President Xi called for a stronger national fitness campaign. He said ensuring people are healthy is crucial to constructing a moderately prosperous society and is fundamental to quality of life.
sunxiaochen@chinadaily.com.cn
Related stories:
Backgrounder: China's National Games
Games put the focus back on sports
Organizers vow economical, efficient National Games
Liaoning revitalized and ready for opening day
China's National Games has budget cut by 78%
Photos on National Games:
12th Chinese National Games open in NE China
<<!-- iscomment为1标示该文章可以评论 -->