Real Madrid appoints Ancelotti as new coach
MADRID - Real Madrid has appointed Carlo Ancelotti as its new coach for three seasons after Jose Mourinho's tumultuous three-season stint.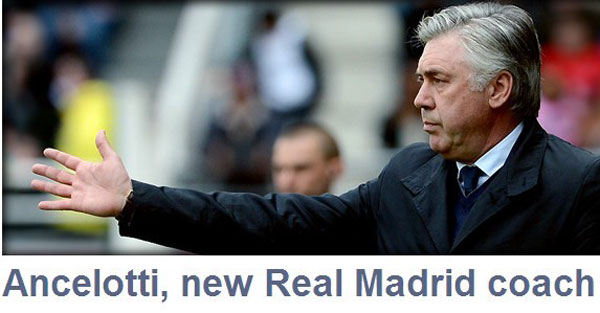 A still image taken from Real Madrid's official website.
Madrid says on Tuesday the 54-year-old Ancelotti has "been elected best coach in all leagues where he has coached: Italy, England and France."
He led Chelsea -- the club Mourinho now coaches -- to the English Premier League title and FA Cup in 2010, and had his most successful tenure at AC Milan, where he coached it to two Champions League crowns in 2003 and 2007 and the Serie A title in 2004. He coached at Italian clubs Juventus, Parma and Reggiana as well.
Ancelotti also won the European Cup twice as a player for Milan in 1989 and 1990.