Lee Chong Wei advances at Indonesia Open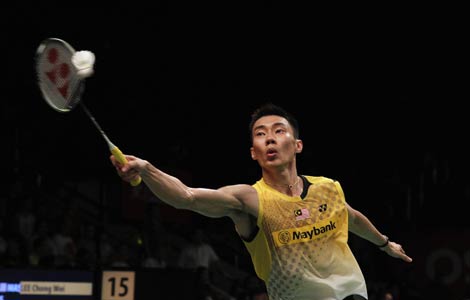 Malaysia's Lee Chong Wei competes against Thailand's Boonsak Ponsana during their men's singles quarter final match at the Djarum Indonesia Open badminton tournament in Jakarta June 14, 2013. [Photo/Agencies]
JAKARTA - Malaysia's No. 1 badminton men's single player Lee Chong Wei trashed on Friday Thailand's seeded player Bonsak Poonsana to qualify a berth in the semifinals of Indonesia Open super series, scheduled to vie Indonesian rising star Dyonisius Hayom Rumbaka in a match scheduled on Saturday.
Lee Chong Wei, the four-time champion of Indonesia super series in 2007, 2009, 2010 and 2011, stopped No. 8 player Bonsak Poonsana in two easy games ended 21-10 and 21-7.
"I would try my best for my country tomorrow. It would be part of my last appearances in international tournaments. I would play nothing to lose tomorrow," he told reporters on the sidelines of the match that qualified him to the semifinals.
The 30-year-old Malaysian has considered retirement after the London Olympics, but is still aiming at the gold medal in the 2014 Asian Games scheduled in Incheon, South Korea, to gloriously end his remarkable badminton career.
In another quarter final men's single match, Indonesia's Tommy Sugiarto defeated his Indian contender R.M.V. Gurusaidutt in three games. He lost the first game and eventually dominated the remaining two games ended 15-21, 21-11 and 21-10.
The son of Indonesia's former top player Icuk Sugiarto takes on German Marc Zwiebler in the semifinal match.
"I met him several times in previous international tournaments. I won in Hong Kong Open and lost in Korea Open against him. So chance is still there to win the match tomorrow. Supports from Indonesian supporters would greatly heat up my spirit to escape from his pressure," said 25-year-old Tommy at a press conference, referring to his upcoming German contender.