Serena mauls Errani, Sharapova awaits in final
PARIS - Maria Sharapova had better come armed with a bit more than the 12 aces she served to reach the final when facing her nemesis Serena Williams in the French Open showpiece on Saturday.
For the second match running Russian defending champion Sharapova produced a wildly fluctuating display on Thursday as she beat fierce rival Victoria Azarenka 6-1 2-6 6-4.
Williams had been forced to wait as Sharapova and Azarenka finished their rain-interrupted two-hour scrap - then came out like a hungry tiger to maul hapless Italian Sara Errani 6-0 6-1.
On the day the WTA celebrated its 40th anniversary, top seed Williams made a mockery of Errani's world ranking of five as she underlined her unshakeable grip on the women's game.
Fifth seed Errani, a claycourt expert who was runner-up to Sharapova last year, pocketed only 16 points and was mercifully put out of her misery by the world No 1 after 46 minutes.
Williams won 40 of her 52 points with winners, incredible statistics, yet she seemed unimpressed.
"I didn't necessarily go out there feeling great," she said. "It was more like, let's just see what happens and try to do the best I could," she added with chronic under-statement.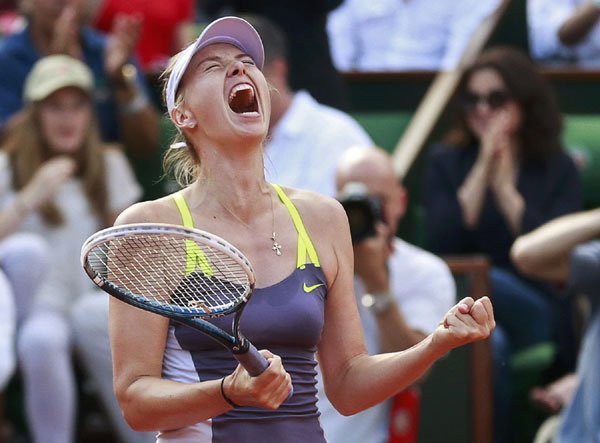 Maria Sharapova of Russia celebrates defeating Victoria Azarenka of Belarus in their women's singles semi-final match during the French Open tennis tournament at the Roland Garros stadium in Paris, June 6, 2013. [Photo/Agencies]
Sharapova, second in the rankings, has not beaten 31-year-old Williams since 2004, a 12-match losing sequence.
"I'd be lying if it doesn't bother me, obviously," Sharapova said of her record against the American who is looking for her first singles crown at Roland Garros since her maiden French Open title in 2002.
"I don't think it would be a pretty competitive statement if I said it didn't. I would love to change that around. Obviously, whatever I did in the past hasn't worked, so I'll have to try to do something different and hopefully it will."
Most Popular
Highlights
What's Hot