DPR Korean wins first table tennis title in 36 years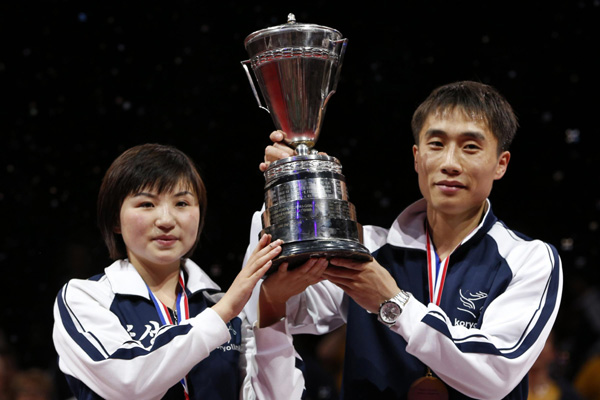 DPR Korea's Kim Jong (L) and Kim Hyok Bong pose with their trophy after winning their mixed doubles final against South Korean pair Lee Sangsu and Park Youngsook at the World Team Table Tennis Championships in Paris May 18, 2013. [Photo/Agencies]
PARIS - Kim Hyok Bong and Kim Jong claimed DPR Korea's first title here on Saturday at the World Table Tennis Championships from the mixed doubles while China sealed the women's singles champion by booking all four semifinal berths.
Tears streamed down the face of Kim Jong; Kim Hyok Bong fought to hold his emotions in check as the national anthem played and the flag of the DPR Korea was raised in their honour.
History was made as they became both the first ever pairing from their country to appear in a mixed doubles final at an individual World Championships and they are also the first pair to win the title and only the second from their country to reserve the top step of the podium.
Their last title came from Pak Yung Sun in the women's singles title at Birmingham, England in 1977.
The DPR Korean pair defeated South Korea's Lee Sangsu and Park Youngsook 11-6, 11-8, 11-3, 6-11, 8-11, 11-7.
Their victory broke China's 10-year monopoly of the worlds, where they have cleanswept all titles since 2003 when Werner Schlager of Austria won the men's singles final.
Since that date in Shanghai, Zagreb, Yokohama and Rotterdam; all five titles on offer have gone the way of China.
It was also the first time since 1989 that the mixed doubles title has not gone to China and only the second time since 1977.
But elswhere, China still looks as dominant as always.
After securing all four berths in the semifinals, Olympic champion Li Xiaoxia beat top seed and defending champion Ding Ning 8-11, 11-4, 4-11, 13-11, 11-6, 11-8 to reach the final.
The result is a reversal of two years earlier in Rotterdam when they met in the final, the same as in 2012 when they crossed swords in the Olympic Games gold medal contest in London.
Li, the world No. 3, will vie for the title against second seed Liu Shiwen, who eliminated teammate Zhu Yuling in a second all Chinese semifinal 11-8, 9-11, 11-9, 11-5, 11-8.
"I needed just to calm myself, to make sure I was focused," said Li.
"I felt that Ding Ning was worried, she was panicking," said Li. "I believed I had an opportunity; the opportunity was taken."
In the men's singles competition, China ensured five out of eight places in the quarterfinals.
Defending champion and Olympic gold medalist Zhang Jike beat Robert Gardos 6-11, 11-6, 7-11, 5-11, 9-11. He will next take on teammate Wang Hao in a repeat of last year's Olympic Games final. Wang defeated Gao Ning of Singapore 8-11, 11-7, 11-7, 11-5, 11-3.
Top seed Xu Xin and second seed Ma Long also reached the last eight by seeing off Marcos Freitas of Portugal and Nwa Koki of Japan respectively.
The 14th seed Yan An was the last Chinese to qualify, upsetting sixth seed Chuang Chih-Yuan of Chinese Taipei 11-6, 11-6, 11-7, 11-6.
China's Ma Lin and Hao Shuai entered the men's doubles final after beating Japan's Seiya Kishikawa and Jun Mizuatani. They will meet Chen Chien-An and Chuang Chih-Yuan in the final. The Chinese Taipei tandem denied an all-Chinese final by beating Wang Liqin and Zhou Yu.
In the women's doubles, three Chinese pairs reserved semifinal places. The other one was won by Feng Tianwei and Yu Mengyu of Singapore.
Most Popular
Highlights
What's Hot